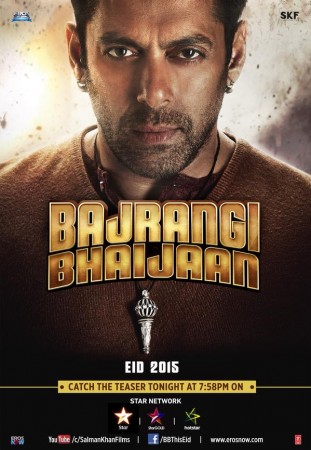 Salman Khan takes the saviour route with "Bajrangi Bhaijaan" teaser.
In the one minute thirty seconds long clip, the superstar is hardly seen doing his usual – punching bad guys in the faces, delivering over-the-top dialogues.
To everyone's surprise, in this one he's a timid Hanumanji bhakt, who refuses to lie and does all he can to take a lost Pakistani girl to safety.
Kareena Kapoor Khan has a blink-and-miss appearance and yet she holds her own in the limited space she has been given in the teaser.
With the India-Pakistan sentiment, Salman's charisma and Kareena's charm, this Kabir Khan directorial has 'blockbuster' written all over it.
Fans are already raving about it on social media. Here are some tweets:
Aisha: WOAHH NOW THATS WHAT YOU CALL A MIND BLOWING TEASER. OMFG *WHISTLES* #BBTeaserTonight (sic)
ronit yadav: jst watched d trailer!!!seems eid pe kuch to toofani hone wali hai!!!SALMAN U ROCKED MAN #BBTeaserTonight
Being Buszku Khan: #BBTeaserTonight Finds a MAN wt a HEART.GOOSEBUMPS. n tat entry.o my god.blwn away.tat lil girl.so cute.almost made me cry.@BeingSalmanKhan
Neat Monster: Record tutne wale hain iss Eid. Liked the teaser. Bholabhala Bhaijaan #BBTeaserTonight (sic)
chinmaya kumar sahu: One of best teaser in world.It make history main bajarangi ka bhakta hu.Mar jaunga jhoot nahi boluga #BBTeaserTonight
Naseem qadri: This movie is gng to freeze the haters of salman. He's gng to set a new unbreakable record #BBTeaserTonight #BajrangiBhaijaan
Watch the teaser below: