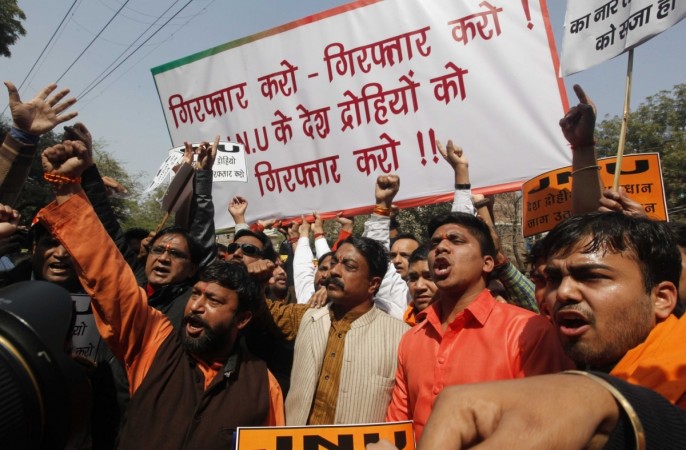 Ayodhya's Bajrang Dal chief Mahesh Mishra was arrested late on Wednesday evening after a video, purportedly showing members of the right-wing group receiving weapons training, went viral and triggered a police case, according to the Indian Express.
Mishra has been sent to 14-day judicial custody, ANI said in a tweet.
The daily reported that the Faizabad police arrested Mishra, convenor of the Bajrag Dal's Ayodhya and Faizabad units, on charges of hurting religious sentiments of Muslims and inciting communal hatred.
The arrest comes after an FIR was reportedly filed under IPC Section 153-A (promoting enmity between different groups on grounds of religion and doing acts prejudicial to maintenance of harmony) by sub-inspector Shri Niwas Pandey, in-charge of the Naya Ghat police outpost in the Ayodhya police station area, late on Tuesday night.
The video purportedly showed unidentified Bajrang Dal volunteers wearing skull caps and training with firearms, swords and sticks at what the organisation was quoted by a Deccan Chronicle report as saying was a "self defence camp" organised on May 14 at Karsevakpuram, the Vishwa Hindu Parishad (VHP) workshop in Ayodhya.
The annual self-defence camp reportedly provides training to Bajrang Dal volunteers to use rifles, swords and sticks to "protect Hindus." The volunteers can reportedly be seen "killing" men dressed as Muslims during the mock drill.
The daily reported that similar camps would be held in Sultanpur, Gorakhpur, Pilibhit, Noida and Fatehpur till June 5.
VHP General Secretary Surendra Jain was quoted by ANI in a tweet as saying: "What was so wrong in that training camp (Bajrang Dal)? It is nothing new. [sic]"
However, Samajwadi Party leader Azam Khan was quoted by the agency as saying in a tweet that the camp should not have been allowed to happen and that "polarisation can't be allowed."