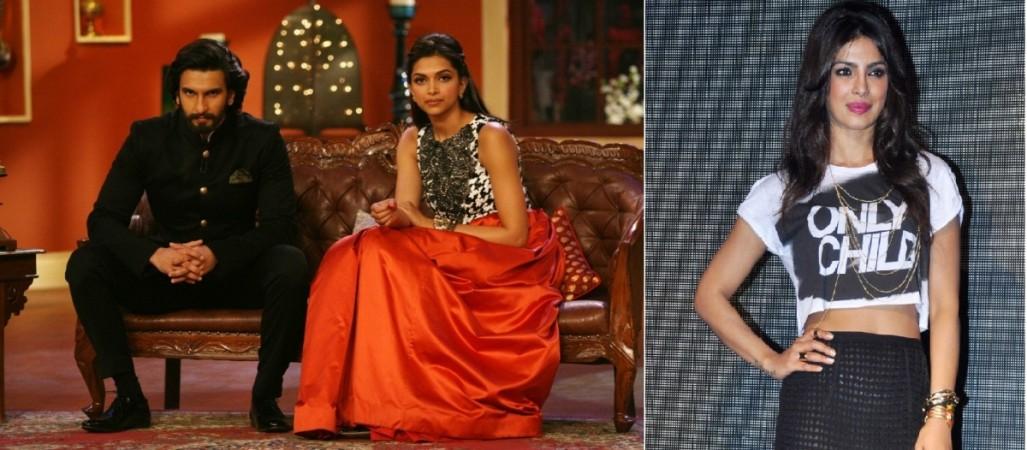 The shooting of Sanjay Leela Bhansali's magnum opus "Bajirao Mastani" has started rolling the cameras on 23 September.
The film features Ranveer Singh, Deepika Padukone in the lead roles while Priyanka Chopra will play as a supporting character.
Singh and Chopra, who will soon be wrapping up their upcoming film "Dil Dhadakne Do", have started shooting for "Bajirao Mastani". Padukone who is currently busy with "SLAM! The Tour", with the cast of her upcoming film "Happy New Year", will join them post her world tour, reported Pink Villa.
The period-drama is based on the love story of warrior Peshwar Baji Rao, who served as Peshwa to the fourth Maratha Chhatrapati (emperor) Shahu from 1720 until his death and his second wife, Mastani.
Singh plays the role of Maratha general Baji Rao, Padukone as Baji Rao's second wife, Mastani and Chopra as his first wife, Kashibai.
"Bajirao Mastani" will revolve around Singh and Padukone, but the story of the troubled first wife Kashibai would be an important part of the film.
Moreover, there were also reports that both Padukone and Chopra will recreate Madhuri Dixit and Aishwarya Rai Bachchan's "Dola Re Dola" magic from Bhansali 2002 super hit film "Devdas".
Although, Padukone and Chopra have worked with Bhansali before, this would be the first time the actresses, who are also close friends, will share the screen space.
Meanwhile, Singh and Padukone's chemistry in Bhansali's last year blockbuster "Ram-Leela" had already garnered praises from the viewers. And now with their upcoming film that is slated to release ion December 2015, the duo will certainly make their chemistry grow better.
The producer-director has been planning to make a film on Peshwa Bajirao and his love Mastani for over a decade now. He initially wanted to cast his favourite Salman Khan and Aishwarya Rai Bachchan but as the relationship between the actors went kaput, the "Mary Kom" producer had to wait until he found the suitable actors for his dream project.
Check out the on-set image of Bhansali's "Bajirao Mastani" here.