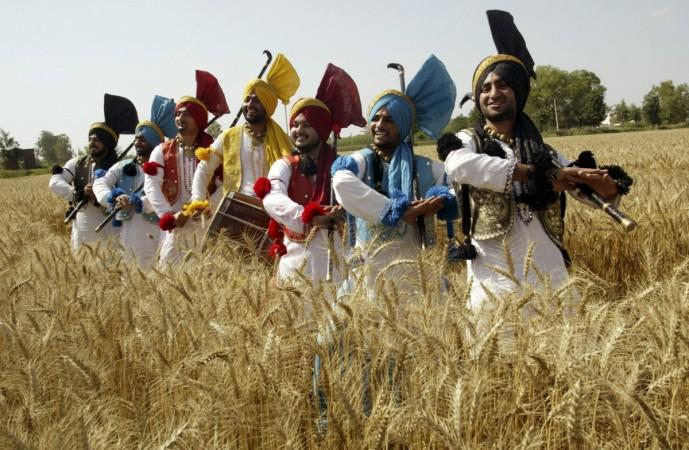 Baisakhi celebration in 2016 falls April 13 and the day is marked as the beginning of the harvest season in North India, mainly in Punjab. It is celebrated as the Punjabi New Year and also it is the day on which Guru Gobind Singh ji (the tenth guru) established the Khalsa Panth.
Also known as Vaisakhi, Vaishakhi, Vasakhi, devotees show gratitude towards God on this day for granting them with good harvest. Other regions in India will celebrate this day April 14 as Pohela Boishakh in Kolkata, Puthandu in Tamil Nadu, Bohag Bihu in Assam and Vishu in Kerala.
Punjabis celebrate Baisakhi by waking up early and dressing themselves in new traditional clothes, then visit gurudwaras to express gratitude to God for the good harvest and seek blessing for the ensuing agriculture season. After getting done with the prayers and related rituals, Kada Prasad (holy food), which is prepared with flour, sugar and butter is distributed among all the devotees.
People enjoy the occasion by performing energetic bhangra and gidda dance and participating in Baisakhi fairs. They also carry out joyful Baisakhi processions to mark the day. On this auspicious day, the entire surrounding of the Golden Temple, which is located in Amritsar, seems like a carnival. The Melas (Baisakhi fairs) are organised in the entire state of Punjab.
Apart from Punjab, the farmers in Uttar Pradesh and Haryana also observe the harvest festival with a lot of happiness and fervour. For a number of people, the festival of Vaisakhi symbolises the time for harvesting the Rabi crops.
On this auspicious occasion, here are wishes, messages, picture greetings to send to your family and friends:
I wish you a very Happy Baisakhi. May Wahe Guruji accept your good deeds, bring all the years full of love and contentment.
May you come up as bright as sun, as cool as water and as sweet as honey. Hope this Baisakhi fulfill all your desires and wishes. Happy Baisakhi!!
With the distinct Khalsa identity and consciousness of purity, Guru Gobind Singh gave all Sikhs the opportunity to live lives of courage, sacrifice and equality. On this festival of Baisakhi, may the Guru bless you to practice His teachings! Happy Baisakhi!
Hope this harvest season brings you bountiful crops resulting in endless joy and happiness! Warm wishes on the festival of Baisakhi!
May the enlighter of the world, the divine Guru bless you with comfort and happiness. And may He bestow upon you a life that is happy in each and every way! Happy Baisakhi!
Khalsa Mero Roop Hai Khas; Khalse Main Haun Karaun Niwas; Khalsa Mero Mukh Hai Anga; Khalse Ke Haun Sadha Sadha Sanga! Warm wishes on the auspicious day of the birth of Khalsa!
Nachle Gaale Hamaare Saath; Ayi Hai Baisakhi Khushiyon Ke Saath; Masti Mein Jhoom Aur Kheer-Puri Kha; Aur Na Kar Tu Duniya Ki Parwa! Baisakhi Mubarak!