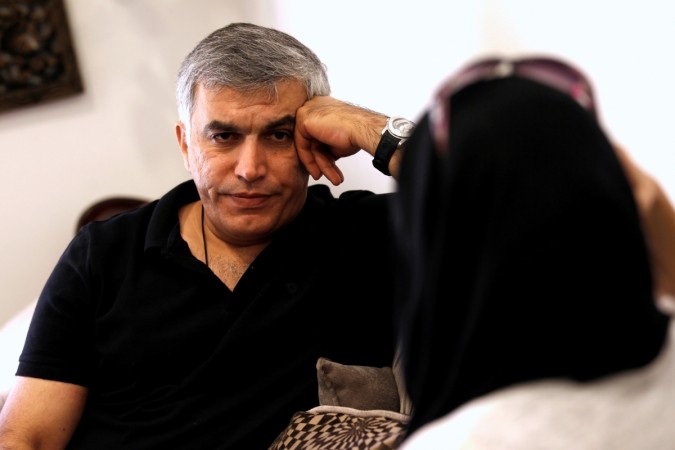 Prominent human rights activist Nabeel Rajab was arrested by the Bahraini police on Monday, his family informed via social media. Sumaya Rajab, wife of Nabeel Rajab, said through her twitter account that the security forces searched the family home before they arrested her husband.
The police did not given any reason for arresting Rajab, Channel News Asia reported.
Bahrain Institute for Rights and Democracy (BIRD), which is a group working with victims of human rights abuse in Bahrain, confirmed the arrest.
"Abhorrent and Vindictive arrest of Nabeel Rajab in Bahrain as civil society faces clampdown ahead of U.N. Human Rights Council session," the group wrote on its twitter handle.
HRD Nabeel Rajab has just been arrested from his house and his house was searched #bahrain @NABEELRAJAB

— Sumaya Rajab (@binmrajab) June 13, 2016
Abhorrent and vindictive arrest of @NABEELRAJAB in #Bahrain as civil society faces clampdown ahead of UN Human Rights Council session. — BIRD (@BirdBahrain_) June 13, 2016
Nabeel, 52, is a prominent human rights activist in the Arab world and is the president of Bahrain Centre for Human Rights (BCHR). He is known for advocating freedom of speech and expression and is responsible for organising numerous protests against the Bahraini regime in the last five years, RT reported. He is also a popular figure during the Arab Spring uprising.
The prominent human rights activist has been in and out of jail on many occasions.
In 2012, Rajab was arrested for his tweet in which he criticised the Bahraini government and other charges were pressed against him. He spent two years in prison. In 2014, he was again arrested for criticising the West Asian nation.
In April 2015, Rajab was re-arrested for speaking out against the outbreak of violence in Bahraini prisons. He was subsequently released after King Hamad bin Isa al-Khalifa ordered his release owing to his poor health, the report by Channel News Asia added.