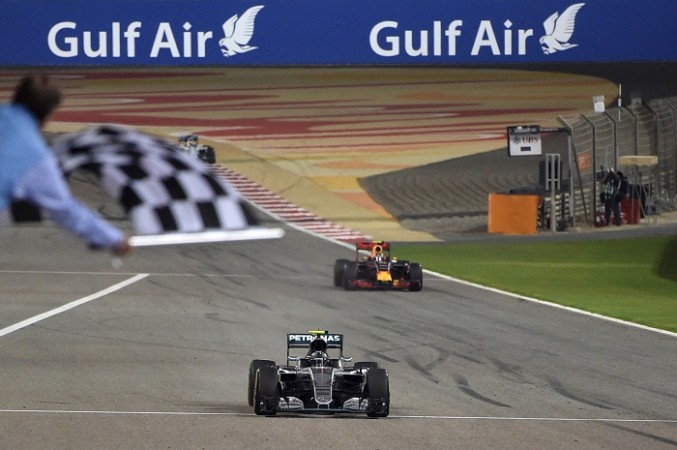 The Bahrain Grand Prix was an incident-filled race, initially, with Mercedes' Lewis Hamilton conceding the lead in turne one of the opening lap to teammate Nico Rosberg, after starting in pole position. That brilliant start, Rosberg felt, played an important role in helping him win the Bahrain GP.
Rosberg has started the season brilliantly, winning the first two races. The Bahrain Grand Prix witnessed the German driving a flawless race to emerge triumphant, which also happens to be his fifth straight win in F1. Rosberg won the last three races of last season.
In the pevious race -- the Australian Grand Prix –, Mercedes did not enjoy a great start, and they were working towards a better one in Bahrain. Rosberg was pleased with the way he got off to a clean start.
"Yeah, we've been working a lot on the starts. I'm pleased that it worked out so well, it was a really good getaway on the dirty side of the grid and that really made my race in the end. And from then on the car was feeling great and just controlling the pace and playing it safe. That's what we were trying to do," F1 official website quoted Rosberg as saying.
After winning the first two races of the season, Rosberg has shown that he is one of the drivers to beat in F1 this season. There are 19 more races to go and he needs to be consistent throughout the season. The German does not want to look too far ahead, and instead focus on next grand prix in China.
"I'm just taking it race by race and it's great to win here today, great to win two on the trot and that's it. Next race – where are we going, China? It is a good moment because we have a good car and I just want to make the most of it," Rosberg said.
Kimi Raikkonen, despite coming close to the German a few times, finished second, and Hamilton somehow found his way through to finish in the final podium place. However, it was a big disappointment for Ferrari's Sebastian Vettel, who did not even start the race due to engine trouble during the formation lap, which was catastrophic, as the driver was expected to push the Mercedes drivers - Rosberg and Hamilton.
Hamilton might have been disappointed with the 'racing-incident', in turn one, but that was not the only problem he encountered, as he was also heard informing his team, "something's wrong with my rear" during the second lap. Hamilton needs to sort out such problems, before he heads to China, as his teammate has looked top-class this season.
"I just lost a lot of performance with the car and I'm not quite sure what happened at Turn One – whoever was on the inside was in my blindspot so I didn't see them. It was a racing incident – those kind of things happen. After that just trying to manage the tyres, obviously with a lot less rear end and trying to get as many points as possible. I did the best I could with it," Hamilton said.