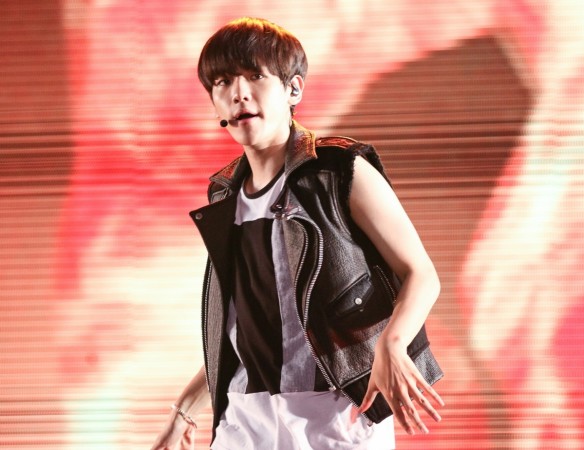 In EXO member Baekhyun's short music career, he has achieved a lot. From earning a black belt in Hapkido to becoming a member of one of the biggest k-pop bands, the singer is a source of immense talent.
On Baekhyun a.k.a Byun Baek-Hyun's 24th birthday on Friday May 6, we take a look at some of the glorious moments in his life and present a few fun facts about the "Growl" singer.
- Baekhyun has a plethora of interests and this was evident even before he joined SM Entertainment in 2011. The singer is an accomplished pianist and was the lead singer of a band called Honsusangtae.
- The singer is known by many other names. The most famous ones are Bacon, Baekon and RapByun, among others.
- The "Call Me Baby" singer and his bandmate Kai are the most popular with their female fan-following. Baekhyun's boyish looks, intriguing smile and energy work in his advantage.
- His mimicry skills are infamous. This was one of his shining qualities when he was in high school. After joining EXO, Baekhyun's imitation of others often makes his bandmates laugh.
- Baekhyun is an accomplished dancer. In fact, his band member Kai once acknowledged that he is EXO's best dancer. However, Baekhyun has trouble following the cameras when he is on stage.
- He is fascinated with eyeliner and uses it the most.
- He was dating Girls' Generation member Taeyeon in 2014. Unfortunately, the couple broke up in September 2015. According to Allkpop, they drifted apart due to their work commitments.
- He belongs to a family of four. He has an older brother and his parents live in Bucheon.
- There is a lot of fan fiction surrounding Baekhyun. You can find some of it on Asianfanfics.
Baekhyun's plans for his birthday are still unclear. However, the latest news suggests that EXO's music video, Overdose has managed to garner more than 100 million hits. Perhaps this is the best birthday gift he could ask for.
Here's some photos of the singer: