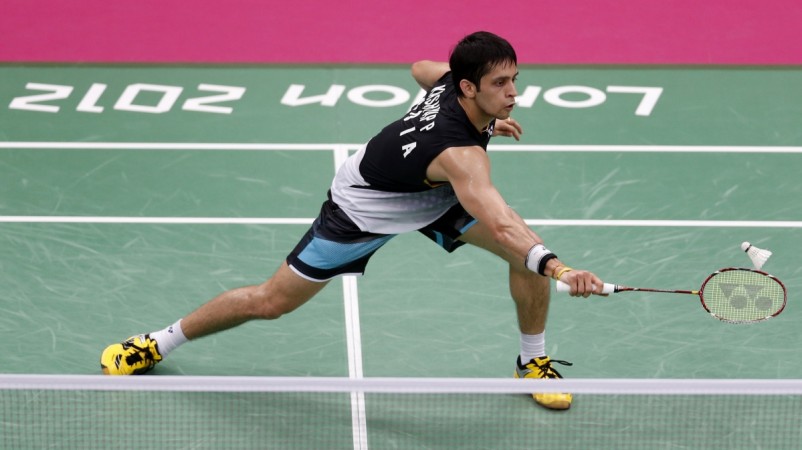 Parupalli Kashyap's Glasgow Commonwealth Games euphoria came to an abrupt end as he crashed out in the opening round, while the mixed doubles pair of Ashwini Ponnappa and Tarun Kona also made early exit from the Badminton World Championships on Monday.
Kashyap went into the contest as the clear favourite against world number 43 Dieter Domke of Germany. But, Domke stunned the Indian ace by registering a hard-fought 26-24, 13-21, 21-18 win in just over an hour.
Both players were neck and neck in the opening game, but it was the German, who held his nerve to grab the first game. Kashyap, however, clinched the second game and levelled the tie at one game apiece.
Domke dominated the decider but the Indian fought back twice to bring the game to level terms, first at 13 and then at 17. The German, who recently defeated Kashyap in the Thomas Cup, raised his game, though, to win the contest.
The German will face world number one Malaysian Lee Chong Wei, who disposed Lee Dong Keun of South Korea 21-11, 21-12 in his opening match, in the second round .
"I will try my best, that's all," Chong Wei said on Monday. "But today I was very aggressive and I was happy with my performance."
Earlier, India's campaign got off to a poor start when Ashwini and Kona lost their opening match in straight games. The Danish pair of Anders Kristiansen and Julie Houmann defeated the Indian duo 21-16, 27-25 in just 46 minutes.
Kristiansen-Houmann made a fine start by winning the opening game. The Indian team put up a fight in the second but they failed to take the match into the decider as the world number 16 pair completed a comprehensive victory.
Ashwini, however, will compete in the women's doubles event along with Jwala Gutta and they are set to face fifth seed Chinese Qing Tian and Yunlei Zhao in the second round.
Meanwhile, the men's doubles pair of Akshay Dewalkar and Pranaav Jerry Chopra moved into the second round with a hard-fought victory over Yun Lung Chan and Chun Hei Lee of Hong Kong.
Dewalkar-Chopra took 53 minutes to beat their opponents 21-19, 16-21, 22-20. The Indian duo will face fifth seed Ki Jung Kim and Sa Rang Kim of South Korea in the second round at the Ballerup Super Arena.
The mixed doubles pair of Aparna Balan and Arun Vishnu registered an easy victory in their opening match. Aparna-Vishnu defeated Hugo Arthuso and Fabiana Silva of Brazil 21-12, 21-14 in just 23 minutes to book a second round clash with Germany's Birgit Michels and Michael Fuchs.