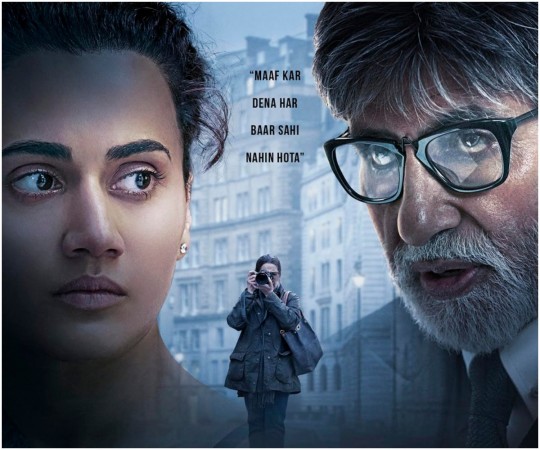 Amitabh Bachchan and Taapsee Pannu starrer Badla is highly awaited movie as the film brings back the hit pairing of the two actors from critically acclaimed Pink.
Badla is a crime thriller in which Taapsee (Naina Sethi) plays the character of a woman, who apparently gets falsely framed in the murder of her boyfriend. Her character has a husband and daughter also in the movie.
On the other side, Amitabh Bachchan (Badal Gupta) is seen as a highly efficient lawyer, who takes up Naina's case to fight in favour of her. The trailer of the film looked intrigue, and impressed the viewers.
While Badla released on Friday across India and UAE, some critics have finally let their reviews out and the crime thriller is being highly appreciated.
Also a number of tweets have come in, praising the story of Badla, and also Big B, Taapsee's performances. Directed by Sujoy Ghosh, the movie is being called an edge-of-the-seat thriller with some extremely unexpected twists and turns.
The murder mystery is being highly recommended, and has been declared as a must watch movie by the critics. Take a look at what critics have to say about Badla.
Check some of the critics' review and rating for Badla:
Mumbai Mirror: Sujoy Ghosh, who created a legacy with the Kahaani films, probably felt the urge to keep up with the genre. And lack of original ideas hasn't kept him from churning out thrillers (he previously produced Te3n which was a remake of Jeong Keun-seob's Montage). Here, the material was compelling enough to translate across languages and Ghosh includes minor tweaks necessary to amplify what works and ties in the loose ends. Avik Mukhopadhyay's tight frames captures this film's mood and mayhem, while editor Monisha R Baldawa ensures the film maintains a decent clip. Rating: 3 Stars out of 5.
Bollywood Hungama: On the whole, BADLA is a smart and impressive suspense drama with the shocking climax and riveting performances being its USP. At the box office, its prospects might be limited to multiplex audience. Rating: 3 stars out of 5.
Koimoi: All said and done, Badla does not just keep you hooked till the end but it destroys your delusion of 'I've predicted the climax'. Outstandingly performed mind-numbing drama that is on a slow burner and in those last couple of minutes, it explodes like a good dream. Rating: 4 stars out of 5.
India Today: If you have already seen The Invisible Guest, there is only a little more that Ghosh is serving you with Badla. But if you are watching Badla as a standalone film without any reference to the original, it will entertain and surprise you.Badla definitely deserves a watch for its surprise factor. Rating: 3 stars out of 5.
Times Now: Overall, Badla is another feather in the cap of Sujoy Ghosh, Amitabh Bachchan and Taapsee Pannu. Watch this one and get ready to be blown away by the performances, narrative and the mystery. P.S - For all those who have watched the original Spanish film The Invisible Guest and are wondering what's in the store for them and will they enjoy the film? Well, I had watched the original and still enjoyed Badla quite a lot. Also, after watching movies like Badla and Kahaani, I sometimes wonder if Sujoy Ghosh really helmed films like Home Delivery and Aladin? Rating: 3.5 Stars out of 5.
DNA India: Shot beautifully at locations in Scotland and a couple of lesser-known exquisite UK holiday spots, this film is a big-screen spectacle because you can delight in the beauty of the snow-laden countryside. On the downside, the movie feels too verbose and claustrophobic because a major portion is set inside just one room. But, if you take a deep breath and let that feeling pass, you may just find yourself "digging deep" into the proceedings. Badla offers a clever recipe for revenge. Definitely worth a try." Rating: 3.5 Stars out of 5.