On Thursday evening, Mira Rajput along with Misha and other kids were spotted at a garden where the little girl was seen having some fun time with her friends playing and swinging.
But soon Mira Rajput lost her cool "Guys please be kind. Let kids enjoy their childhood and leave the photographing to the parents," she wrote on her Instagram story.
Well, she has a point and photographers should understand. Because Mira has never raised an issue like this before. She always gets papped at airports and other events with Misha but looks like this time she's upset!
Mira in an interview said, "As far as media attention is concerned, I know it's going to happen. I can't keep Misha behind closed doors all the time. I want her to have a normal childhood. I want her to know that she has the privileges that she has because of her father. She has to respect that. I just hope that she doesn't get swept away by the tide.Obviously, I want to share what Misha does with my family and friends. Shahid also wants to do so with his friends and family. She is our pride, but there is always a line. I want to protect her as much as I can."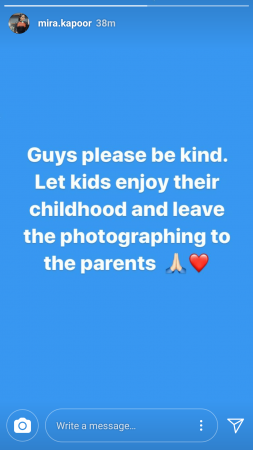 Shahid also said about Misha's childhood, "I worry about the future much more. Of course, this is because I know my daughter's growing up in this atmosphere. I want to protect her. But I do think that the times to come are going to be more about women than men. Change is coming — and it's already palpable."