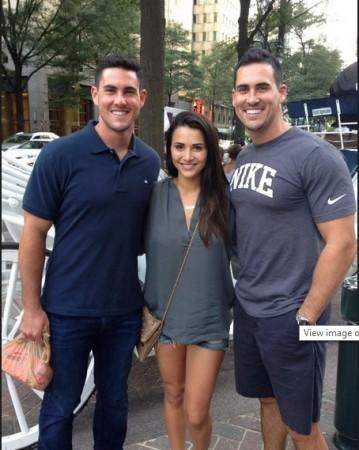 Rumours surrounding "The Bachelorette" couple, Andi Dorfman and fiancé Josh Murray, refuse to die down, and the latest piece of gossip revolves around Dorfman's relationship with Josh's brother, Aaron Murray.
Aaron is a professional football player, and a number of reports claim that Dorfman's relationship with the quarterback isn't as innocent as she is portraying it to be. Reportedly, the two exchanged a few tweets soon after Dorfman appeared on Juan Pablo Galavis' season of "The Bachelor" and The Stir claims that "she was more than a little bit starstruck over the interaction with Aaron."
Dorfman recently opened up about her interaction with Aaron during an interview with Jezebel, stating that she recollects tweeting something along the lines of her dad being a fan of Aaron.
"My dad is a UGA fan and his brother played at [The University of] Georgia and I remember his brother tweeting something at me, and I made one comment being like, 'Oh, my dad's dream has come true, Georgia football!' I'm a [Louisiana State University] Tiger through and through, so, to me, a Georgia Bulldog is just a rival."
While the interaction seems innocent enough, Celeb Dirty Laundry sources too noted that this might not be the case. Dorfman is "super close with Aaron and obsessed with his career," the website claims.
As fans of the dating reality show know, Dorfman has always been attracted to athletes in the past, and now that Josh is no longer in the game, she misses the "glitzy life of dating pro athletes."
Reportedly, Josh has trust issues with Dorfman, and her more than normal interest in his brother's life is only going to make matters worse.
If these latest claims are true, then this won't be the first time that a woman has been attracted to both the Murray brothers. Reports have it that both Josh and Aaron dated the same woman, Birttany McCord, a while back.
This was brought to the media's attention when McCord posted online photos of herself with Josh, claiming that although they dated, the relationship did not work out. Interestingly, a few weeks later, she posted another photo of herself with Aaron, saying that they too dated.