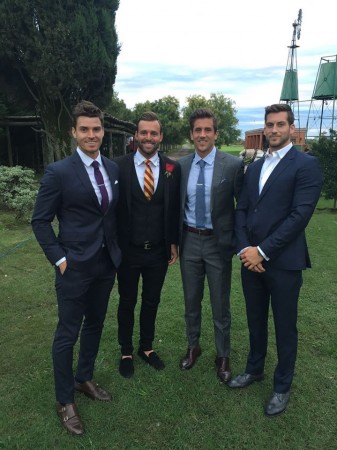 Season 12 of "The Bachelorette" will soon be airing its Men Tell All special and it looks like the episode will be filled with a lot of drama.
JoJo will once again get to meet the contestants she met briefly and according to spoilers, Chase, who will be brought to the hot seat by Chris Harrison, will accuse JoJo of leading him on during their overnight Fantasy Suite dates.
According to Bachelor Nation spoiler guru Reality Steve, Jordan Rodgers, Robby Hayes and Chase McNary will proceed to the Fantasy Suite dates. But Chase won't have a happy time with Fletcher in Thailand and they will part ways on bad terms. Reportedly, JoJo will accept the Fantasy Suite date card, but will not go through with the date.
"Chase and JoJo do go back to the fantasy suite, but while there, JoJo basically says she's not feeling like she should, and she lets Chase go before they spend the night together," Reality Steve wrote on his blog. "They don't end on good terms. Basically, she's upset and telling him essentially she didn't mean to hurt him and that's not her intention and he comes back with, 'But that's exactly what you did.'"
In other "The Bachelorette" news, reports doing the rounds indicate that JoJo and her rumoured final pick, Jordan, who are supposedly engaged, won't go through with the wedding. A break-up announcement can be expected shortly after the finale of Season 3 of "The Bachelorette" airs in August, some reports claim. Reality Steve is one such person who believes the duo won't get hitched.
"I hate guessing on stuff like this because if I say 3 months, and they last 6 months, some moron will inevitably say, 'You were wrong on how long you thought they'd last,'" Steve stated in his weekly 'Reader Emails' column. "All I know is they aren't getting married."
"The Bachelorette" airs Mondays on ABC.