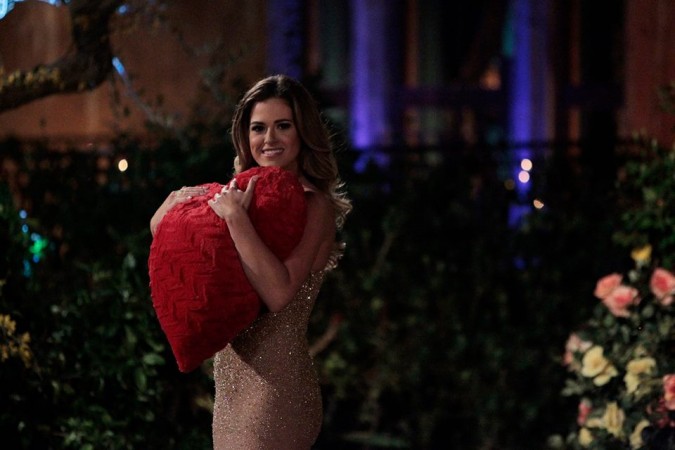 JoJo Fletcher is slowly winding down her search for true love on television and Monday's episode will see her eliminating two more contestants, leaving just four suitors in the running.
Next Monday's episode of the dating reality show will see her heading to the hometowns of the remaining four – rumoured to be Jordan Rodgers, Chase McNary , Robby Hayes, and Luke Pell – and at the end of the hometown dates, one of them will be eliminated. The rest will move on to the overnight dates.
During the hometown dates, her first stop will be will be with a family who has been affected by divorce. Next will be a high school date, and one bachelor will take her to an old-fashioned barbecue with his family, the synopsis reveals.
Meanwhile, the summary for this Monday's episode has been released, and it reveals that one man will have a rocky first date with Fletcher. But it's not all doom and gloom. A trailer for the episode shows Fletcher daring Hayes to take off his clothes."I really do love a good game of Truth or Dare. Especially when it involves Robby stripping down to his undies." Fletcher says in her confessional.
"I think JoJo just wanted to see me with my shirt off," Robby says in his confessional. "I think the other guys might have felt a little uncomfortable – I felt uncomfortable! My grandma is going to hate to see this, and I apologise Mamaw, but it was all in the pursuit of love."
The synopsis, according to TVGuide, reads:
JoJo and the men visit the Argentinian countryside, where the first date gets off to a rocky start. Later, a private jet whisks JoJo and one lucky guy away to a vineyard. During dinner, the bachelor makes a shocking admission. A date with three suitors gets rained out, so JoJo spends the day with them ordering room service, pillow fighting and watching the Brazilian version of "The Bachelor." A one-on-one date allows one man to show off his horse-riding skills.
"The Bachelorette" airs Mondays on ABC.