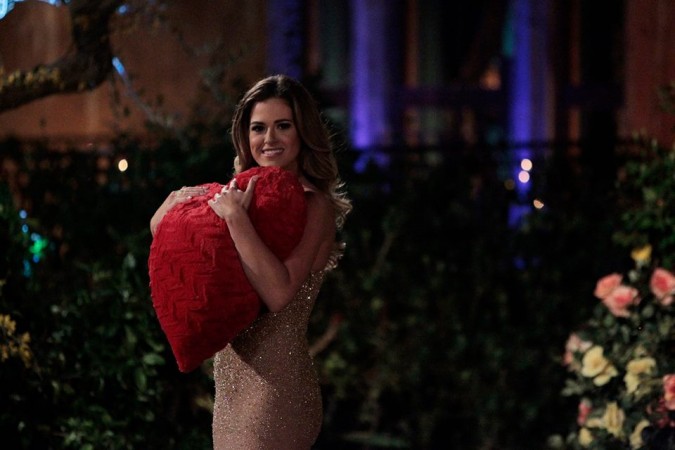 Weeks before "The Bachelorette" aired on television, spoiler guru Reality Steve revealed in a blog post that Jordan Rodgers wins Season 12 of the dating reality show and that he even pops the question to the Bachelorette. And when ABC started airing "The Bachelorette," it became obvious that Rodgers was a frontrunner, as he clearly shared an intense chemistry with Fletcher.
The two will get a chance to take their relationship to the next level during the Fantasy Suite date. But Rodgers isn't the only one who will be given the opportunity. If Steve's sources are correct, then Robby Hayes and Luke Pell will also get an opportunity to spend some alone time with Fletcher. But does she end up having sex with all the three contestants?
Here's what Steve has to say:
"As is the case every season, there will be speculation regarding sex. Same thing I get asked every season, 'Does the lead really sleep with all three guys in a row like that?' The answer: Every season is different. Some have had sex with one, some have had sex with two, some have had it with all three. But that's usually not found out til well after the fact. Sometimes years after the season is over. What I can tell you is JoJo had overnight dates with all three guys in the town of Hua Hin and then eliminated one at the rose ceremony."
According to the spoiler guru, Pell will be eliminated and the finalists will be Rodgers and Hayes, and the former will win Season 12. But is Fletcher still with Rodgers, who has been accused of coming on the show for fame, and not to find true love? Celeb Dirty Laundry reported that multiple sources have come forward claiming that Rodgers and Fletcher aren't a happy couple and a breakup shouldn't come as a surprise. The truth will be revealed during the "After The Final Rose" segment that will be aired during the finale.
"The Bachelorette" airs Mondays on ABC.