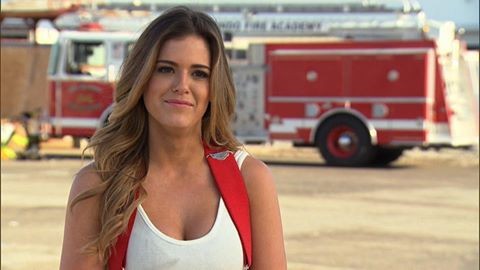 Season 12 episode 3 of "The Bachelorette" will feature more drama involving this season's villain, Chad. A sneak peak of the upcoming episode shows Daniel asking Chad to be less like Hitler, and the luxury real estate agent isn't too pleased with the comparison.
"Let's just pretend you're Hitler," Daniel says, to which Chad replies, "Let's not pretend I'm Hitler." Daniel continues: "If I hang out with you, it's gonna make me look bad, too, right? So let's be not so much like Hitler — maybe be more like Mussolini, you know? Or [George W.] Bush, right?"
According to spoiler guru Reality Steve, the upcoming episode will see JoJo Fletcher and some of the contestants taking part in a Vagina Monologues-themed event where they'll talk about embarrassing sexual encounters. Towards the end of the event, Evan and Chad will get into a physical altercation and this will further cement Chad's reputation as a bad boy.
Here's what Reality Steve has to say about the drama: "Evan went up second to last, and because he has sons and didn't want them to possibly hear it someday, he just started ripping Chad talking about people on testosterone, their veiny, they have mood swings, etc. Once he was done, Chad was last to go and as they cross each other, Chad pushes him and rips Evan's shirt. Chad refused to tell a story because, yet again, he thinks the whole thing is stupid."
After the event, Chad will try to get a kiss from Fletcher, but she rejects him. His mood will further be ruined when Fletcher gives Evan the group date rose. Chad's luck will run out in episode 4, where he will be eliminated after a two-on-on date, reported Steve.
"The Bachelorette" airs Mondays on ABC at 8 p.m. ET. CLICK HERE to watch the episode live online. Episode 4 will air the next day, Tuesday, at 8 p.m. ET.