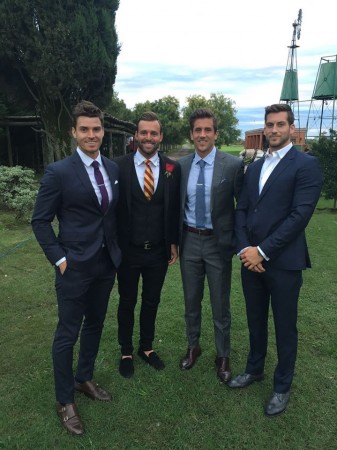 Monday's episode of "The Bachelorette" saw JoJo Fletcher meeting the families of her final four contestants, and surprisingly there wasn't much drama. But that doesn't mean there weren't minor uncomfortable moments.
For instance, Aaron Rodgers' absence in Jordan's household was a major talking point, and many are still wondering what went wrong between the two brothers.
"It's something we don't really like to talk about a whole lot," Jordan's eldest brother told JoJo, adding that Aaron is estranged from the whole family. "It pains both of us like, not to have that relationship [with Aaron] – we miss our brother. I trust that God brings things full circle and that everything would just get back to us being a family."
In an on-camera interview, Jordan admitted it would have been nice to introduced JoJo to Aaron,. and that he missed his brother.
The next awkward moment cropped up when JoJo visited Robby Hayes' folks, and she was told that his ex-girlfriend was causing problems by alleging that he broke up with her just to appear on the dating reality show. When JoJo confronted him, Robby revealed that he broke up with Hope months before he got a call to be on "The Bachelorette."
"I will tell you right now that's not true by any means. My relationship with Hope, who is my ex, was over nine months before it actually ended," Robby said. "It's something that I didn't have the capacity to end it when it should have because I thought changes were going to be made. And I tried to give her benefit of the doubt to see if we could make it work and it never happened. I ended it at the end of December, we had a blowup fight and she slapped me."
It looks like Robby has managed to convince JoJo, but viewers will find that out only in the next episode, as this week's rose ceremony got interrupted by Luke, who finally said "I Love You" to JoJo. Luke's interruption has changed the whole game, as all four suitors have now admitted to being in love with JoJo. Next week's episode will reveal who all will move on to the Fantasy Suite dates.
"The Bachelorette" airs Mondays on ABC.