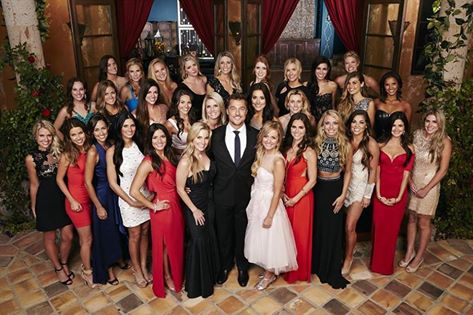 "The Bachelor" promos have been teasing a pregnancy test that was found in the mansion, and many were quick to assume that Chris Soules might have gotten a contestant pregnant.
But the Bachelor recently opened up to ETOnline saying he was in no way connected to the pregnancy, although he did get the opportunity to get close to a number of girls. "I can say that no I am not [the baby daddy]," Chris said, laughing. "I had nothing to do with the pregnancy test, and I was not involved in that."
During his interview, the farmer from Iowa dished about the other contestants on the show, and said that viewers will get to see more of his storyline with Britt, a waitress.
The 27-year-old from Los Angeles caught Soules' fancy as soon as she stepped out of the limo, and their hug has been called "the longest televised hug in history." She might bring in a lot of drama this season, and Soules said it was going to be worth a watch.
"You still need to watch. There's some changes that happen throughout the process. It's still worth watching," he told ETOnline.
However, in another interview with Jimmy Kimmel, Soules hinted that he doesn't know much about Britt, hinting that she might not last long. When Kimmel asked whether she worked at a Hooters nearby, Soules revealed: "I don't know. We never got that far in the details."
Majority of viewers were surprised when Tara Eddings, a 26-year-old sport fishing enthusiast from Ft. Lauderdale, FL, earned a rose at the first ceremony, and Soules defended his decision to let her stay on, saying she created a good impression when she was sober.
"She was drunk for the majority of the [night]. When I first talked to her, she was good to go. She was in good shape. So I got to know her sober and then realized at the end it wasn't that way," Soules explained to Jimmy Kimmel.
He added his parents weren't thrilled about his decision. "They weren't really excited about the drunk one," Soules admitted, and hinted that she too doesn't last long in the season.