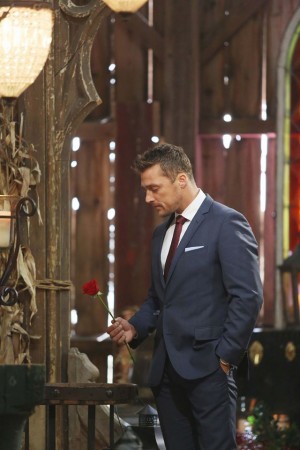 Chris Soules' journey on "The Bachelor" ended on Monday when he proposed to Whitney Bischoff, and now that the couple can be open about their relationship, the next step on the agenda is starting a family.
Bischoff plans to relocate to Arlington, Iowa to be with Soules, and the farmer told People magazine that he was looking forward to starting a family. "I'm ready to be a dad," said Soules. "I'm 33. I think I'm past due!"
"I'm relieved that this is over," Bischoff, 29, said. "I'm looking forward to the life that we're going to start. I think a lot of great things are going to happen."
In the After the Final Rose special, Bischoff said she was the happiest girl in the entire world and said she did not watch Soules' dates with the other women because she was confident of her relationship with "The Bachelor."
"I feel very confident in our relationship, so I don't know that it's a necessity to me," she explained, and added that Soules being torn between her and Becca Tilley had the effect of strengthening her relationship with the farmer.
On his decision to ditch Tilley for Bischoff, Soules said that he believed he had the most chances of making it work with Bischoff, who was clearly his family's favourite as well.
On the other hand, Tilley's uncertainty was clearly evident during her interactions with Soules parents where she admitted that she couldn't make any promises unless she was sure their relationship would work out.
"Becca is in a different place in her life compared to where I am. That doesn't make it a bad thing, and it didn't change how I felt about her, but it's about trying to find the person that you can see in your life and that you have the best chance of making it work forever with," he told People. "My sister said, 'You're not looking for a girlfriend, you're looking for a wife.' That's the truth."
However, there doesn't seem to be any wedding plans for now.