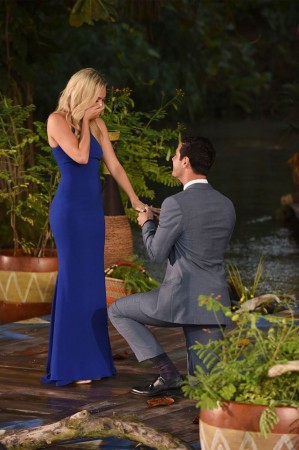 It has only been a few days since Lauren Bushnell was announced as the winner of Season 20 of "The Bachelor," and according to a new report, she is already fighting with her fiancé Ben Higgins.
Higgins' closeness to his ex girlfriend is said to be one of the factors straining their relationship.
"Ben values his ex's opinion on things," Life and Style reported, according to HollywoodLife. "After breaking up, they would catch up here and there, but they got closer in the past year. Even when Ben got engaged to Lauren, that didn't stop them from talking."
Although Higgins and Bushnell got engaged in November, they've had to spend a lot of time apart to prevent the media from finding out about their romance. But now that they are together, Bushnell won't like "The Bachelor" star maintaining contact with his ex, claims a magazine source.
"Lauren and Ben are already having trust issues," the source claimed. "Now that they're finally able to spend time together, if he calls his ex, she's going to freak out. It's going to start a war."
The Life&Style report should be taken with a pinch of salt, as things seem to be going great for the new couple. In the "After the Final Rose" segment that aired on Monday, the couple spoke about not wanting to delay their wedding and said they were looking at a late 2016 or early 2017 date.
In a recent interview with People, Higgins even said that Bushnell has always been "the one."
"It was always Lauren," the "Bachelor" star dished to People. "No matter how much I felt for JoJo, I knew I could never say goodbye to Lauren. From the time she got out of the limo, to the first time I saw her walk around the corner at a cocktail party, everything kept being better than I ever expected."