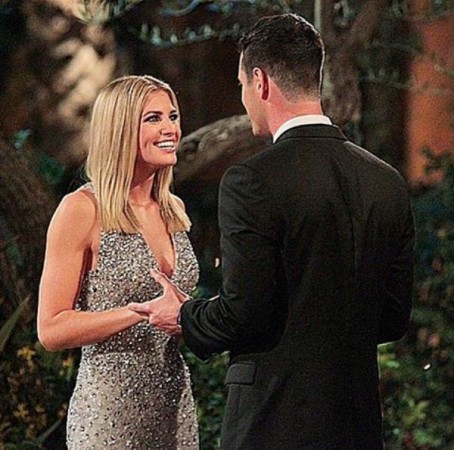 There's still time for Ben Higgins to give his final rose to either JoJo Fletcher or Lauren Bushnell. While fans wait with bated breath to find out who the winner is, ABC will keep their interest alive with "The Women Tell All" episode. The latest instalment of "The Bachelor" will shed light on all the eliminated contestants' time with Ben and controversial cast member Olivia Caridi.
In the upcoming episode of "The Bachelor," past contestants will meet host Chris Harrison and speak about what and who they hate the most. According to Reality Steve's Spoilers, the cast for "The Women Tell All" episode will include Amber, Lace, Caila, Becca, Jen, Jami, Rachel, Izzy, Tiara, Amanda, Leah, Emily, Haley, Lauren H., Olivia, Jubilee and Shushanna. If there's a common thread between these women, it is their mutual dislike for Olivia.
In the promo for the episode, the women say that she was disrespectful to them. "I came to you twice. Not only in Vegas, but after the Teen Mom comment was said and that whole drama, I came to you again and I was just like, 'Olivia, we're still feeling disrespected by you in the house,'" Emily tells Olivia.
Interestingly, Olivia defends herself by stating that none of the women actually told her that they found her attitude troubling. The former news anchor from Texas claims: "When girls had a problem with Jubilee, they went to Jubilee and said something. But for me, it was never really brought to me. Emily came to me once and said it bothers me when you grab him first."
This backfires when Amanda confronts her about trash-talking her and calling her a teen-mom. At this point, Olivia, 23, fights back tears and doesn't have anything to say.
The fight with Olivia will not be the only drama in "Women Tell All." Caila Quinn, who is rumoured to be the next Bachelorette, will talk about how she fell in love with Ben, only to be eliminated. In a one-on-one with the host, she says that she couldn't fight her feelings for the bachelor in Jamaica.
Fans of the show will remember that the two even had a fantasy suites date. Unfortunately, Ben eliminated her after his passionate and intimate date.
"The Bachelor" Season 20's "The Women Tell All" episode airs on Monday, March 7 at 8 p.m. on ABC. You can live-stream the episode via ABC GO.