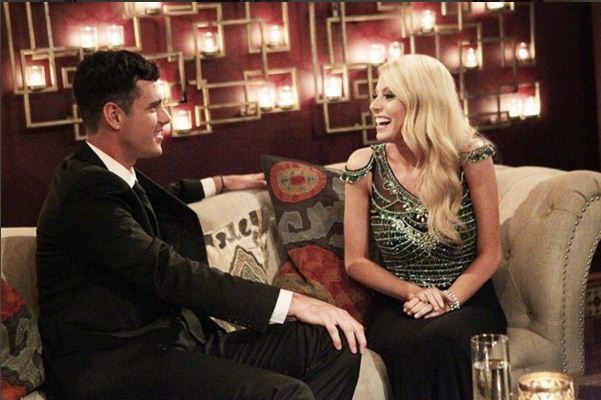 Ben Higgins' quest for love is almost coming to an end on "The Bachelor." The ABC reality show's finale is near and as season 20 progresses, Ben's decisions leave the contestants in tears.
In Season 20 Episode 7, Ben will take the six remaining contestants (or should we say girlfriends) to his hometown in Warsaw, Indiana. This will be the setting of the three one-on-one dates and a group date. The bachelor's itinerary includes taking the women on a private tour of the city, a trip to Chicago's Wrigley Field, a group date on a farm and a trip to his parents' home.
The locations for all the dates seem very personal and perhaps Ben will reveal more about his roots and childhood. However, it will be Emily Ferguson who will learn the most about him and his family. Ben will take Emily home to his parents and according to Reality Steve, the date will be disastrous. This will be the end of Ben's relationship with Emily and he will eliminate her.
Elsewhere on the episode, Ben will take Amanda Stanton, Caila Quinn and Becca Tilly on a group date to a farm. Ben will find it difficult to give the rose to just one lady because he does have a history with all the three women.
According to Reality Steve, Ben will give the rose to Amanda because he's always been attracted to her. The two will go on another date, which will include a romantic dinner and a trip to the local carnival. To be sure, Ben shares a very romantic relationship with Amanda. He seems grounded and honest when he is with her.
In case you are wondering what happens to the other important women such as JoJo Fletcher and Lauren Bushnell, they do go on individual dates with Ben, but it remains to be seen if Ben 's emotions have strayed. In the promo, JoJo is seen in tears. Does this mean that Ben asks her to go home?
At the end of Season 20 Episode 7, Ben will eliminate two more contestants. Who will be the final 4? Let us know in the comment section
Season 20 Episode 7's synopsis released via TV Guide reads:
Ben and the six remaining ladies visit his hometown of Warsaw, Ind., where one lucky bachelorette is given a private tour by Ben. Later, Ben takes a date to Chicago's Wrigley Field. A group date for three women at a romantic farm ends in tears when only one of them gets a rose. One lady gets her first one-on-one date and a special surprise.
"The Bachelor" Season 20 Episode 7 airs on Monday, Feb.15, 2016, at 8 p.m. on ABC. You can live stream the episode via ABC GO.
Watch the promo here: