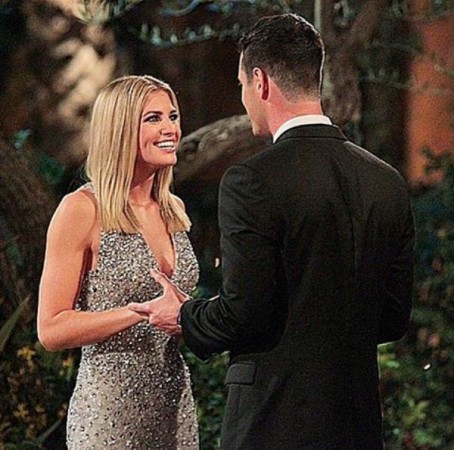 The drama surrounding Ben Higgins' quest for true love isn't over yet. In the latest episode, the bachelor from Denver makes some controversial choices that make other contestants angry. If you're wondering who we are talking about, it is Olivia Caridi, perhaps one of the most disliked contestants on "The Bachelor" 2016.
In Season 20 Episode 5, Ben and the ladies travel to Mexico City, where nine contestants -- Emily Ferguson, Becca Tilley, JoJo Fletcher, Leah Block, Jen Saviano, Olivia, Jubilee Sharpe, Lauren Bushnell, and Caila Quinn -- learn Spanish in order to cook a delicious meal for the bachelor.
The ladies are divided into groups of two and take a tour around the local market. They are required to follow the recipes of renowned Mexican chefs Lula Martin Del Campo and Nicolas Martin Del Campo. At this point, Olivia hijacks the group date and turns it into a one-on-one moment with Ben.
This obvious selfish move infuriates the other women on the show and their anger is ignited once again when she calls Amanda Stanton, one of the contestants, a "Teen Mom."
At this juncture, the contestants on "The Bachelor" seem to have had enough of Olivia and her theatrics. They ask Ben to send her home, but will he comply with their demands? After all, she remains one of Ben's favourite ladies on the show.
Elsewhere on the show, Reality Steve predicts that Amanda goes on a hot air balloon ride with Ben. Their first romantic date also includes a personal confession by the single mother. However, Steve says that Ben will not be put off even after Amanda talks about her divorce at length.
Season 20 Episode 5's synopsis reads:
Ben and 11 bachelorettes travel to Mexico City, where Ben takes one lucky lady on a hot air balloon ride over ancient pyramids. Later, nine señoritas take part in a culinary competition; one lady meets a top fashion designer and walks the runway to open fashion week; and Ben confronts one bachelorette over her off-putting behaviour.
"The Bachelor" Season 20 Episode 5 airs on Monday, 1 February, at 8pm on ABC. You can live stream the episode via ABC GO.
Watch the promo here: