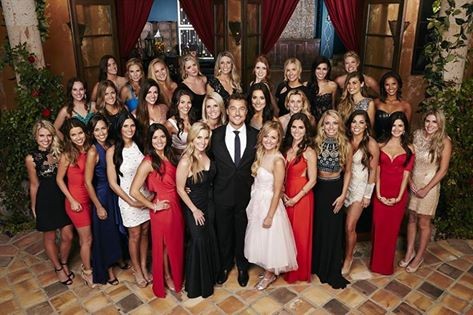 At the end of the first episode, "The Bachelor" star Chris Soules has narrowed down his search for true love to 22 contestants. While the upcoming episodes will definitely feature more eliminations and heartbreaks, there are four contestants to watch out for throughout the season.
Whitney Bischoff: The 29-year-old has a lot of similarities with Soules, and one of them is that both consider themselves to be hopeless romantics. The 29-year-old is a fertility nurse is also a family girl who cannot live without her "planner (totally old school), money, my job (have to pay the bills), razor (can't stand hair), friends and family." Her biggest fear is not being able to find love or start a family, but as per spoilers, she won't have to worry about it as Soules finally pick her as his soul mate.
Becca Tilley: The 27-year-old Britt is a waitress from Hollywood and cannot live without "bible, journal, makeup, snacks, cell phone." Her biggest fear is being into someone who isn't that into her. Britt is into a lot of social work and her greatest achievement to date is "the children I sponsor are my most proud achievement. I am happy to put my money toward giving them a better life."
Kaitlyn Bristowe: A dance instructor, Bristowe is from Vancouver, BC and Monday's first rose of the ceremony went to Bristowe. Speaking about Bristowe to People, Soules told People: "One girl who particularly caught my eye was Kaitlyn. She actually came up, guns blazing, when she came out of the limo. She told me that I could plow her field any day. I think I blushed. But then she taught me how to break dance when I met her inside. I was really impressed with her."
Jade Roper: Roper is a cosmetics developer from Los Angeles, CA, and her greatest achievement has been initiating the launch of her business. According to ABC cast bio, her biggest concern is paying off her debts and her future plans include "launch my business, pay off my debt, set my parents up for retirement, invest, and give back."