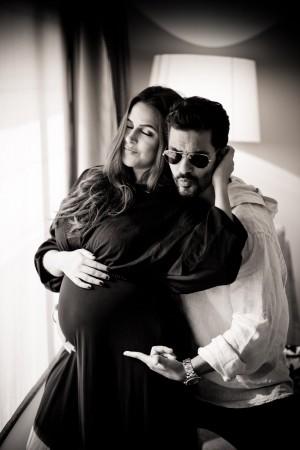 Neha Dhupia has announced her pregnancy with a sweet message on Instagram this evening. The Bollywood actress and television host has also shared cute pictures of her baby bump with her husband Angad Bedi by her side! Angad Bedi, actor and son of cricketer Bishen Singh Bedi, also shared the pictures on his social media.
Neha Dhupia said on Twitter and Instagram, "Here's to new beginnings ... #3ofUs .... #satnamwaheguruੴ." While Angad Bedi simply said, "Ha! Turns out this rumor is true.. #3ofus #satnamwaheguruੴ."
Ever since the couple got married, there had been rumours of a pregnancy, with recent pictures of Neha Dhupia showing her trying to hide a baby bump.
Neha Dhupia and Angad Bedi got married in a quiet ceremony on May 10, 2018, after dating for some time. Even as there was buzz about the wedding of Sonam Kapoor and Anand Ahuja around the same time, Neha Dhupia and Angad Bedi chose to be quiet and classy.
Neha had shared a picture from her wedding on the day, saying, "Best decision of my life.. today, I married my best friend. Hello there, husband!"
As Neha Dhupia and Angad Bedi shared their 'good news' on Twitter, congratulations poured in for Neha Dhupia and Angad Bedi on Twitter and Instagram from fans and celebrities alike.
This will be the first baby of the couple. Congratulations to Neha Dhupia and Angad Bedi for a new chapter in their life!