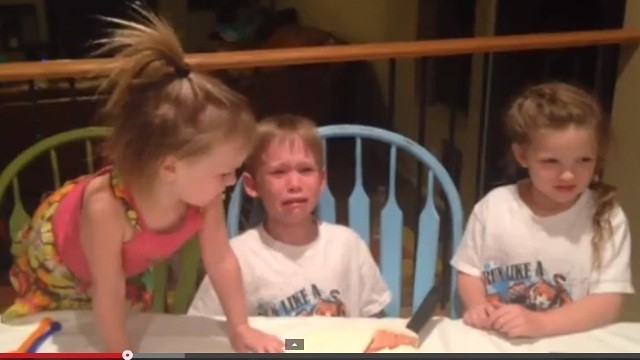 A new YouTube video that has gone viral shows how distraught a six-year-old is after learning that he is getting a baby sister for the third time.
Jason Tiffany Mertlich decided to reveal the baby's gender to his three young children - Gunner, Paisley and Harper – by hosting a party. The three children are seen gathered around a table, while the dad asks them to guess the baby's gender.
Check out the video below:
Gunner is adamant that he wants a boy, Paisley wants a girl and Harper is happy as long as it's a baby.
A cake is set in front of the children, and to Gunner's dismay he finds that the filling is pink.
"It's a girl" Gunner says and immediately starts crying. "It's another girl! I hate girls! Every time it's girl, girl, girl, girl!! It's always going to be girls. ... It's too much."
Gunner refuses to eat the cake despite his sister telling him that it has jelly in it, and even threatens to leave the house because he wanted the family to have two boys and two girls.
"I hate girls!" adds the little boy. "I want to leave this house and never come back! I want to be by myself!"
Gunner is also sure that he won't love his new sister and says that he wants a house with "zero girls."
The YouTube video was uploaded on March 22 and since then has received about 578,245 views, with a good number of online users posting consoling messages to Gunner.
"Be patient little man. When you're all older and those 3 sisters start bringing home their college friends you'll be so grateful you had sisters," one message read.
Meanwhile, Jason has come under criticism for telling Gunner that he too felt disappointed when he came to know they were having a girl. Many have even expressed hope that the yet to be born baby never comes across the video.
"I really hope his little sister never sees this, the brother keeps saying that he doesn't want her and that he won't love her and the dad said he had the same reaction," one user wrote.