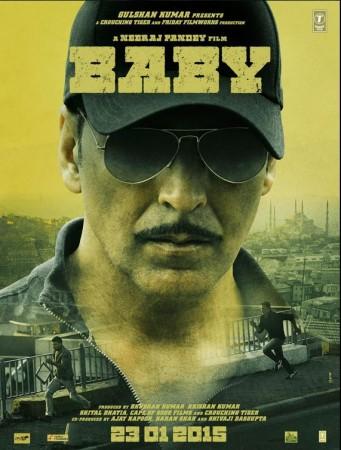 IBTimes India Rating:3.5
The average at which Bollywood churns out good movies is very low. For every month, there's one that's worth your time and money. Neeraj Pandey's "Baby" doesn't disappoint.
With counter-terrorism as it central theme, the action-packed thriller gives you the invincible espionage agent Ajay Singh Rajput (Akshay Kumar), who is ready to pull down hate-spewing terrorists hiding away in the dark alleys of the nation, and a well-informed team in Jai Singh Rathore (Rana Daggubati) and Priya Suryavanshi (Taapsee Pannu).
Scything enemies while trekking the Nepalese mountains, swishing through the desert sand and hurtling down the Turkish streets, the armed troop's mission is to pin down Bilal Khan (Kay Kay Menon), the terrorist on-the-loose.
The story line, although predictable, comes with its share of thrills and promises a rollercoaster ride all the way to the end. And since it's a Pandey film, the execution is rather slick and never makes you cringe in disbelief.
Akshay as the stern and no-nonsense spy guy Ajay delivers a believable performance. Rana's Jai is more of an 'actions speak louder than words' believer. Priya lets Taapsee's flexibility to test as she stuns the audience in a stylishly choreographed fight sequence. Kay Kay shines as the devious terrorist, and Danny Denzongpa's strategist Feroze Ali Khan fares well.
The dialogues are never over the top but one little gripe is the film's urge to give its audience crowd-pleasing moments. The disappearance of major plot twists is something Neeraj could've avoided considering he's given Bollywood enthusiasts 'A Wednesday' and 'Special 26'.
MM Kreem and Meet Bros Anjjan's music doesn't add much to the script and the background score is a little too loud overpowering the finer sounds.
In a nutshell, Akshay's "Baby" keeps you engaged till the end.