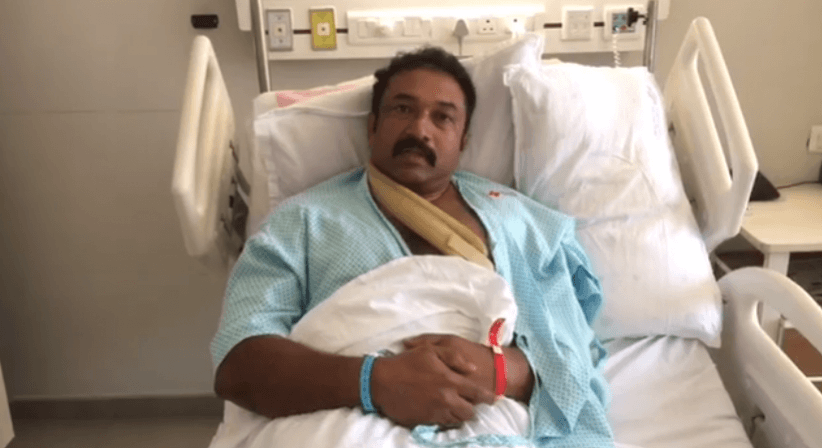 Malayalam actor Baburaj, who has appeared in many villainous and comedy roles, was recently in the news after getting stabbed by a person over a water dispute in Adimali, Idukki. After many speculations about the incident that surfaced online, the actor has come forward with an explanation on what exactly had happened to him through a video uploaded on his Facebook page on Friday, February 17.
Also read: Manju Warrier reacts to Aami controversies
"I would like to express my sincere thanks to all well-wishers who prayed for my recovery. I came across various rumours about the incident and thought of informing what exactly happened that day directly to the people via this video. I am not calling myself Mother Teresa or a Gandhian, but this was a sincere dealing that I did. I bought this plot from a person named Sunny (the one who attacked me). This person visited my house four years ago saying he is in need of money for his daughter's marriage. I gave him Rs 2 lakh without writing an agreement," Baburaj is heard saying in the video.
The actor, who is now out of danger, also explains on how he was cheated by this person, to whom he already gave almost Rs 5.45 lakh and constructed a pond there.
After he asked for more money, we made an agreement, in which he wrote it to be his own plot and even submitted tax receipts under the name of Sunny. I believed him and gave Rs 3.45 lakh with Rs 5 lakh on paper, and the agreement was signed by his family members. I made a pond and started using the water from there. However, he kept on postponing the registration of the plot. But I realised that the plot actually belonged to his father, whose name is also Sunny but only after I received a legal notice from his sister over its ownership. Then, I filed a cheating case against him one-and-a-half years ago. Last day, he attacked me without any reason.
However, Baburaj said he has now come forward with an explanation on the incident as he was hurt with the negative news against him, his wife (yesteryear actress Vani Viswanath) and family by a few media, especially a news channel, showing visuals from movies in which he played villainous roles.
I got hurt after a news channel reported negative news about me and my family using clips from my movies. I am a person who is closely associated with that particular channel and if they can create such fake news about me, I wonder the situation of common people. So are the news we hear in channels not true? We believe all these channels are reporting right news, but I feel like there are some kind of hidden agendas. I do not understand that, so I would like to raise that question now. Similar incidents can happen in the life of anyone, but hurting people this way is not right.
Baburaj concluded his video by thanking everyone for their prayers and assured that he is recovering and will leave the hospital within a week. After suffering an injury on his chest, the actor was immediately taken to a private hospital in Adimali and was later shifted to a medical facility near Kochi.
Watch Baburaj's reaction to the fake news about him: