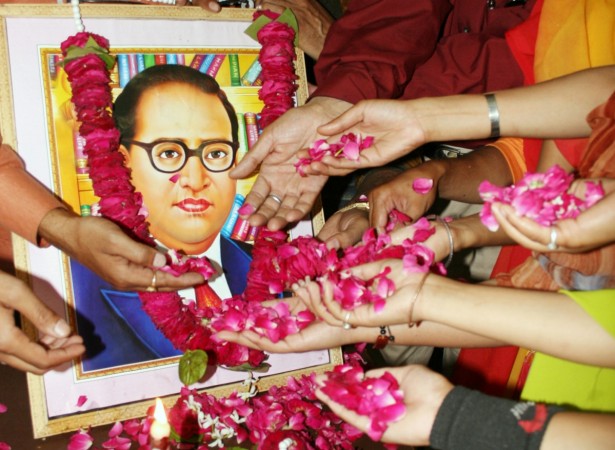 Bollywood celebs and politicians remembered Dr BR Ambedkar, the father of the Indian Constitution, on his 124th birth anniversary on Tuesday, 14 April, 2015.
The hashtag #AmbedkarJayanti has been trending on micro-blogging site Twitter since morning, where people are paying tributes to Babasaheb, who was known for his fight against social discrimination of Dalits, women and labourers.
Born in Mhow, Madhya Pradesh on 14 April 1891, Ambedkar served as independent India's first law minister.
Search engine giant Google has also paid tributes to Ambedkar by creating a doodle to mark the birth anniversary of Babasaheb Ambedkar.
#Google pays tributes to #BharatRatna Baba Saheb #Ambedkar on #AmbedkarJayanti. #GoogleDoodle #AmbedkarLegacy. pic.twitter.com/aoRV4ub5bA

— Prasar Bharati (@prasarbharati) April 14, 2015
Many politicians including Prime Minister Narendra Modi, Union Finance Minister Arun Jaitley, BJP president Amit Shah, and celebs including actors Riteish Deshmukh and Anupam Kher, among others, paid tributes to Ambedkar.
Tributes posted on Twitter:
#PresidentMukherjee paying floral tributes on Birth Anniversary of Babasaheb Dr. B. R. Ambedkar today pic.twitter.com/17yqRnkS7D

— President of India (@RashtrapatiBhvn) April 14, 2015
I bow to Dr. Babasaheb Ambedkar on his birth anniversary. Jai Bhim. pic.twitter.com/QaeoWQyyDU — Narendra Modi (@narendramodi) April 14, 2015
Interacted with school kids who were visiting Vidhan Sabha to pay tributes to Dr. Babasaheb Ambedkar pic.twitter.com/ILUCNJm9RP

— Anandiben Patel (@anandibenpatel) April 14, 2015
Anandiben Patel
Was delighted to see school children well aware about the ideals & thoughts propagated by Dr. Babasaheb Ambedkar.
Adv. Somnath Bharati
In the 300 yrs of history of Columbia University Dr. Ambedkar was adjudged to be the best student but Govt of India didn't celebrate this.
Piyush Goyal
My heartfelt wishes to the countrymen on birth anniversary of Bharat Ratna, Dr. Bhimrao Ramji Ambedkar ji. As the Chairman of drafting Committee of our Constitution, he was the key architect of the founding principles of independent India. His efforts to eradicate social evils were remarkable. Throughout his life he worked for the upliftment & rights of the marginalised classes
Anupam Kher
Just to remind the world on Dr. Ambedkar's Jayanti what he had to say about Art. 370. It is an eye opener..:)
Nirmala Sitharaman
On his birth anniversary, recalling the steely grit that Dr Ambedkar showed as a social reformer. Constructive and motivational.
Vasundhara Raje
Tributes to Bharat Ratna Babasaheb Ambedkar on his birth anniversary. We must adopt his principles of human dignity & equality for all.
Rajnath Singh
Heartfelt tributes to Baba Saheb Bhim Rao Ambedkar on his 124th birth anniversary today. Jai Bhim! Jai Bharat!
Ravi Shankar Prasad
My tribute to the architect of the Indian Constitution Bharat Ratna Baba Sahab Dr. B. R. Ambedkar Ji on his birthday.
Amit Shah
My homage to architect of India's constitution, Bharat Ratna Dr Babasaheb Ambedkar ji on his 125th birth anniversary.
Sivarajsingh Chouhan
Tribute to the great visionary, architect of the Indian constitution, Dr.Babasaheb Ambedkar on his birth anniversary.
Riteish Deshmukh
Remembering Dr Babasaheb Ambedkarji Architect of Indian Constitution on his Birth Anniversary today. His contribution to humanity is immense
Arun Jaitley
Today on the birth anniversary of Dr. Ambedkar, the principal architect of the Constitution of India, let us remember & pay tribute to him.
CM of Karnataka
On Shri. Babasaheb Ambedkar's birthday, I bow down to the Principal Architect of the Constitution of India. #AmbedkarJayanti
Kiran Bedi
Agar inka statue laga hai to koi Neta hi honge". Villagers were not aware its Dr Ambedkar's. So much of our awareness in rural areas+