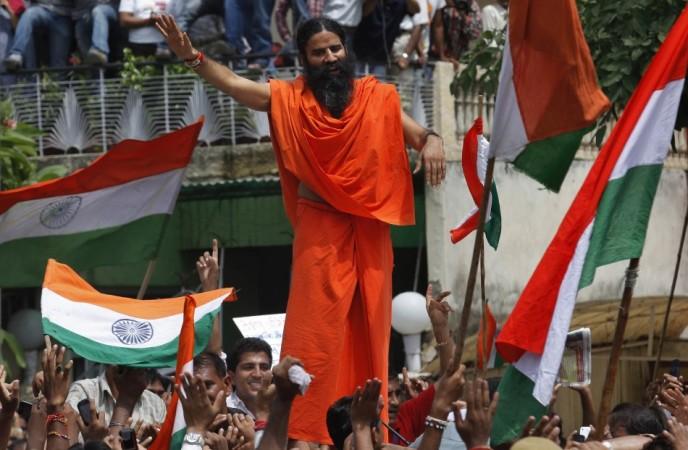 Yoga Guru Baba Ramdev started his fast at Ramlila Maidan on Thursday with a huge crowd support. TV visuals showed thousands of supports from different parts of the country thronging the fast venue.
In a bid to persuade the government to give in to his demands, including bringing black money back to the country, Ramdev has once again hit the Ramlila Maidan, from where he was forcefully evicted during a midnight swoop by the Delhi police last year.
The crowd at Ramlila Maidan is reported to be much larger than what was recorded at the Jantar Mantar last week during Team Anna's fast-unto-death protest demanding the government to pass a strong Lokpal bill.
Ramdev first paid a visit to Rajghat, where he meditated for a few minutes before reaching the protest venue.
He launched his fast amidst the huge gatherings after which he addressed the crowd and media persons and clarified his stance on several issues ranging from indefinite fast to his interest in politics.
Commenting on his protest, he said that it was not an indefinite fast but a symbolic fast for three days.
Ramdev ruled out entering politics, saying that he has no intentions to float a political party but his main agenda is to pressurise the government to retrieve the money stashed in the banks abroad.
This time around, the Yoga Guru has more than one causes to fast - besides bringing back the black money. He is also demanding the introduction of Lokpal bill and to free the Central Bureau of Investigation (CBI) from the Central government's grip.
It is reported that Ramdev has developed a strained relationship with Hazare after the former was seen sharing the dais with Gujarat chief minister Narendra Modi last week.
However, Ramdev was also quick to clear rumours, saying that his relationship with the 75-years-old anti-corruption crusader (Anna) was strong and intact. He said that Hazare continues to support his cause and said the fight for Lokpal bill isn't over and very much in place.