Is yoga guru and Patanjali Ayurved founder Baba Ramdev making a bid to buy embattled news channel NDTV? Both Patanjali and NTDV have denied any such news, but it has still taken social media by storm, possibly because it broke the same day as the Central Bureau of Investigation (CBI) raided properties owned by NDTV founder Prannoy Roy and his wife Radhika Roy.
The news channel said about the CBI raids conducted on Monday, June 5: "NDTV and its promoters will fight tirelessly against this witch-hunt by multiple agencies. We will not succumb to these attempts to blatantly undermine democracy and free speech in India."
The rumours
It all started with a report from a news outlet called "exchange4media," which quoted top sources as saying in a news report that "the broadcaster is in preliminary talks with some parties to sell the TV channel."
The report also said Ramdev was "among the interested parties [looking to buy the news channel] and he recently had a preliminary discussion with some stakeholders regarding the acquisition of the channel."
Interestingly, the report is dated June 5, Monday — the same day when NDTV Ltd's business news channel NDTV Profit went offline, with the media arm being rebranded as an infotainment channel named NTDV Prime from 4 pm, when it changes its logo to reflect the update.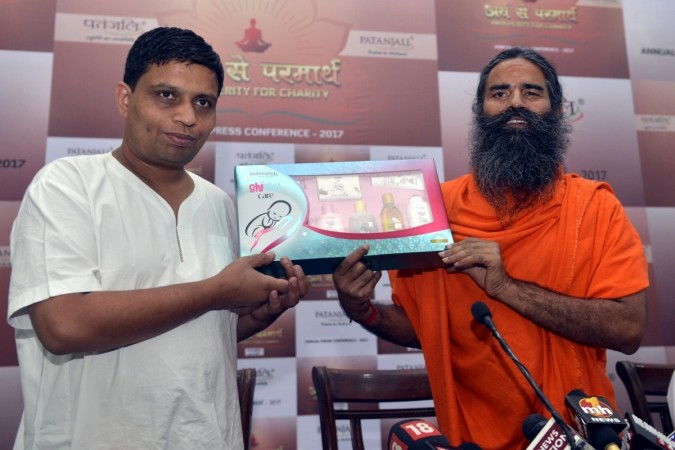 NDTV and Patanjali react
Both NDTV and Patanjali have refuted any such news. Nidhi Razdan, who is executive editor at NDTV, took to Twitter to clarify on the news. She said: "Hello people, Ramdev is not buying NDTV. Thank you."
Hello people, Ramdev is not buying NDTV. Thank you

— Nidhi Razdan (@RazdanNidhi) June 5, 2017
SK Tijarawala, official spokesperson for Ramdev himself, also refuted the report. He, too, took to Twitter to say: "This is bogus, baseless and unwarranted news that @yogrishiramdev in preliminary talks to buy NDTV." He used the official Twitter handle of Ramdev in the post, and also tagged Acharya Balkrishna in it.