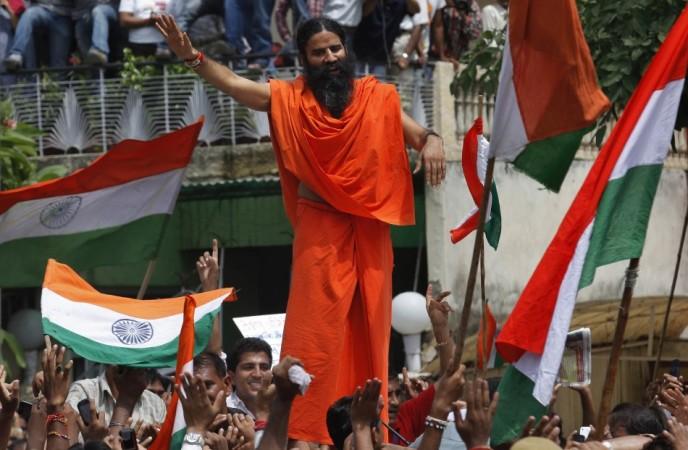 Yoga Guru Baba Ramdev announced his next move in a press conference on Saturday, saying that he will be heading a fresh agitation targeting the ruling Congress in the upcoming 2014 elections.
Ramdev said that his next phase of protest would kick off on October 2 and will continue till the Lok Sabha elections, in a bid to bring down the "corrupt" Congress central leadership.
Ramdev, who is expected to head a nationwide anti-Congress rally, however, said that his immediate priority is Gujarat and Himachal Pradesh, which will go to polls this year.
"People will give a suitable answer to Congress. What will it do to us when it is on a dissolving path on its own," Press Trust of India quoted Ramdev, while alleging that Congress party targeted him and his supporters.
Ramdev's announcement comes just days after his recently-concluded protest at Delhi's Ramlila grounds.
Last month, he launched a 3-day 'symbolic-fast' in Delhi's against corruption but the agitation continued for straight 6-day, as the government remained defiant in considering his demands.
Later, Ramdev called off his fast on the eve of Independence Day following a high-political drama. He has been leading the agitation against black money. His latest demands also include the passage of Lokpal bill and to keep the Central Bureau of Investigation free from the Centre's grip.
Many political leaders from NDA showed up at Ramdev's protest arena, including BJP party president Nitin Gadkari and NDA convenor Sharad Yadav, who used the protest podium to ridicule Congress party.
Meanwhile, Ramdev was also seen pitching anti-congress sentiments from the dias, saying that the government has no authority to continue at the office and he promised to defeat Congress at the next Lok Sabha elections.