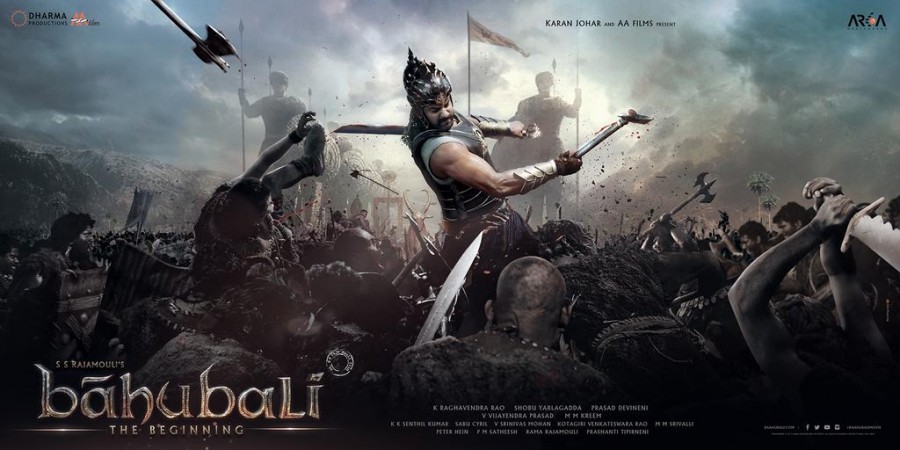 SS Rajamouli has released the last one in the series of posters of his upcoming magnum opus movie, "Baahubali".
The final poster introduces the Prabhas' titular character, Baahubali, referred to as the "True King" by director SS Rajamouli.
The previous poster, which was released on 20 May, was that of Bhalladeva, the anatagonist and brother of Baahubali, played by Rana Daggubatti. It had received some overwhelming response for the immense physical change undergone by the actor for the role.
[Click here to See Photos of 'Baahubali']
The team had earlier released posters of Tamanna's character Avanthika, Sudeep's Aslam Khan, Sathyaraj's Kattappa, Nasser's Pingalathevan, Prabhakar's Kalakkeya, Ramya Krishna's Shivagami, Anushka Sharma's Devasena and Prabhas' Shivudu.
"Baahubali" narrates the story of two brothers, fighting for the throne and the film is being made simultaneously in Tamil and Telugu languages with a budget of around ₹175 crore. The pre-release business, according to some reports, has already crossed the ₹100 crore mark.
The film had recently made headlines when the Bengaluru-based music company Lahari Audio grabbed the music rights of the film for ₹3 crore, which is the highest ever for a Tamil or Telugu project.
The trailer and the songs are scheduled to be released on 31 May while the film is currently slated for release in over 3,500 screens in India on 10 July.
సాహస విక్రమ ధీశాలి ! రణతంత్ర కళా కుశలి !!

— rajamouli ss (@ssrajamouli) May 22, 2015
#Baahubali #TheTrueKing #liveTheEpic pic.twitter.com/yd9R2YBhv6 — rajamouli ss (@ssrajamouli) May 22, 2015