The South Indian film industries have recently witnessed big banners coming up with mega-budget films and increasing their reach by adhering to unique attempts.
Even as Vikram's "I" is fresh in the minds of the audience, yet another movie made with a huge amount is releasing this week. We are talking about SS Rajamouli's "Baahubali".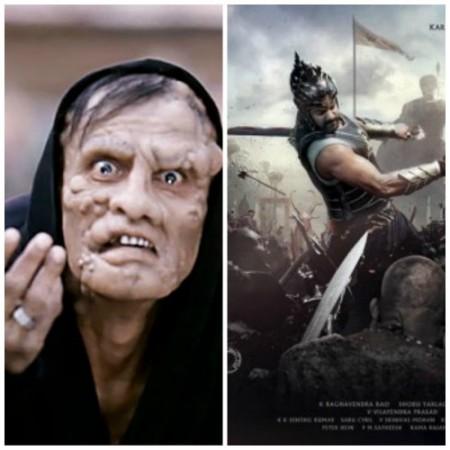 Vikram's "I" had made stunning business though the profit margin was pretty less. But Shankar's flick clearly displayed the strength of the South market and showed that if systematically explored, makers can target ₹200 crore from a South film!
Now, director SS Rajamouli, who created history in the South film industry with his "Eega" ("Naan Ee" in Tamil), is ready to strengthen the market with his "Baahubali", which stars Prabhas, Rana Daggubati, Anushka Shetty and Tamanna Bhatia.
As a result, people are curiously waiting to see if "Baahubali" will be able to break the record of "I". It has also been observed that movies made in such massive scale set and broke records. Hence, the trade is expected to go high and the upcoming movie may rock the collection centres.
'Baahubali' vs 'I'
While approximate budget of "I" was ₹150 crore, "Baahubali" is made in two parts with the budget of ₹120 and ₹130 crore (Including the remuneration of the cast and crew). But, SS Rajamouli's film is getting a bigger release in terms of the number of screens.
"Baahubali" is releasing in more than 4,000 screens across the world in Telugu, Tamil, Malayalam and Hindi languages, whereas "I" had released in 3,000 screens worldwide. Shankar's movie made good business in Tamil and Telugu, but failed to keep the cash registers ringing in Bollywood.
In case of "Baahubali", leading filmmaker Karan Johar has acquired the Hindi rights and he is giving a good publicity and releasing it in close to 1,500 screens. His presence gives the movie a fair chance of making good business. But for "I" Hindi version, the situation was different.
Although the "I" makers had tried their best to promote the movie, with Vikram visiting the "Bigg Boss" house, the film failed to make good business. It could only make little above ₹16 crore from Bollywood.
"I" made business of ₹202 crore from the three languages. The movie had earned ₹145 crore from South India alone (₹74.06 in TN, ₹16 in Nizam, ₹24.35 in AP, ₹13.52 in Karnataka & ₹16.80 in Kerala.) In the rest of India, it raked in ₹4+ crore and collected ₹53 crore from foreign circuits.
Going by the screen count, "Baahubali" could possibly beat the opening weekend records. But to beat the lifetime record of "I", the movie should garner positive reviews from all sections of audience and languages.