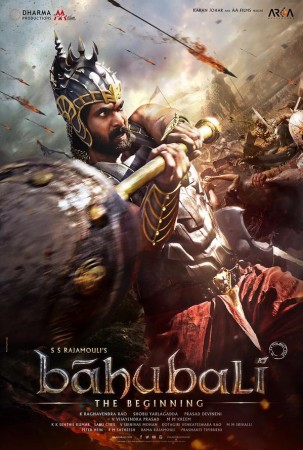 Latest update regarding the business of the upcoming magnum opus movie, "Baahubali", is that its music rights have been acquired by Bengaluru-based music company Lahari Audio for a whooping ₹3 crore.
The film reportedly has a total of nine songs and this audio rights deal is the highest ever for any Tamil and Telugu movie.
"Going by the extraordinary demand for the rights created by the huge buzz and hype around the film, it was always expected that the music rights will fetch a record price. Lahari's Manohar Naidu and his son Chandrakumar stayed put in Hyderabad for over 15 days to wrap up the deal in a tightly contested bid, say sources. Tulsiram Naidu of Lahari confirmed that the company has bagged the rights but refused to confirm the cost of acquisition," reported Bangalore Mirror.
With audio rights being sold for such a huge amount, "Baahubali" has definitely become the biggest film ever made in India. The music of "Baahubali" has been composed by M Keeravani, who is also director SS Rajamouli's cousin, and Madhan Karky has written lyrics for the Tamil version.
"MM Keeravani has always delivered hits and there has never been an exception. In fact the record sales in Telugu is the album of film Pelli Sandadi which had music by Keeravani. We released the music and 36 lakh cassettes were sold," said Tulsiram Naidu.
Meanwhile, the makers of the film are reportedly planning for a grand audio launch event in Hyderabad and the function is expected to be attended by many celebs from the Tamil and Telugu film industries.
The audio and trailer launch of the film is scheduled to take place on 31 May, while the movie is expected to hit the screens by 10 July.