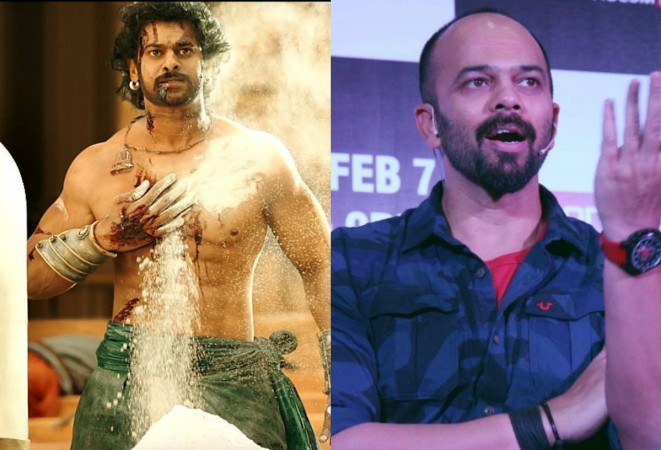 Telugu actor Prabhas has become a national star after his Baahubali (Bahubali) series. While all the filmmakers around the world want to work with the superstar, director Rohit Shetty might get lucky to cast Prabhas in one of his upcoming movies.
Before you get too excited about the collaboration, let's give you a heads up. Nothing's confirmed yet as Rohit has only expressed his wish to work with the star. While interacting with reporters at the launch event of the eighth season of Fear Factor: Khatron Ke Khiladi, he said he is looking forward to work with Prabhas and Salman Khan.
While talking about SS Rajamouli's magnum opus, the Dilwale director praised the movie and the director. "The success of Baahubali 2 is because of the script and direction, and not because of Prabhas' popularity," the filmmaker said.
Rohit revealed that he is a big South cinema fan. "I would love to work with Prabhas, of course! Actually, I would love to work with all the actors in the South," he added.
Does it mean Prabhas will make his Bollywood debut with Rohit's movie? However, the hunk has worked with Bollywood actress Kangana Ranaut in the past. The duo appeared in the 2009 Telugu film Ek Niranjan.
Kangana has recently shared the experience of working with Prabhas. "I feel so happy to see Prabhas doing so well. When we started that time, we used to fight a lot and I remember we had this massive fight when we stopped talking to each other. Then I saw Baahubali and I was like 'Wow!' I am so proud of his achievement and I am sure he feels the same," Kangana said during the promotions of Rangoon.
Watch Rohit Shetty at the launch event of Fear Factor: Khatron Ke Khiladi 8: