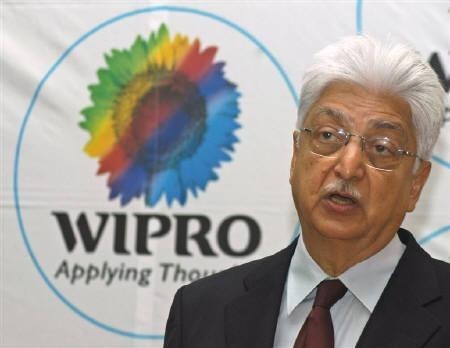 Wipro chairman Azim Premji revealed his business proposals for both Andhra Pradesh and Telangana, when he met the two Chief Ministers of the states in Hyderabad on Sunday.
In AP's Visakhapatnam (Vizag), Wipro is to develop a special economic zone (SEZ) in 3.1 acres, with a potential to provide employment to more than 7,000 people in the next five years.
The company has also proposed to set up a soap manufacturing unit of its Santoor brand in Hindupur of Anantapur district in AP at a cost of Rs 500 crore. Soon after the proposal came from Premji, AP Chief Minister N Chandrababu Naidu sanctioned the permission to the company, according to reports.
Hindupur is just 80km from Bangalore, where Wipro is headquartered.
Wipro was allocated 7.14 acres in Vizag at Rs 80 lakh per acre in 2004-05 by the then-Andhra Pradesh government. In a portion of the land, the company has set up a SEZ and employed 650 persons. Now, Premji has come forward to expand the SEZ in the remaining 3.14 acres. The AP government is said to have sanctioned a No Objection Certificate (NOC) to Premji instantly.
Wipro has units in Hyderabad and Vizag and its present annual turnover in the state is Rs 3,500 crore, with over 10,000 employees.
AP hopes that Wipro's expansion in the state will encourage other IT companies to set up their units in its urban pockets like Vijayawada, Guntur, Tirupati, Anantapur.
Naidu has also urged the Wipro chairman to extend educational services of Azim Premji Foundation, which is mainly involved in primary education. Naidu wanted the Foundation services to be extended to cities like Tirupati, Vijayawada and Kakinada in the state.
When Premji met Telangana Chief Minister K Chandrasekhar Rao (KCR), the latter has assured that Telangana would be made an attractive destination for investments by both national and international companies.
Premji congratulated KCR for achieving Telangana state and forming the government. Premji told the Chief Minister that besides the existing Wipro units in Hyderabad, the company will come up with more proposals for expansion.
KCR told Premji that Telangana has numerous skilled IT workers and urged him to employ them in Wipro and other units. KCR also informed Premji about his government's initiatives in IT and other industrial sectors, especially about the corruption-free single window clearance system and a chasing cell.
The state government would develop IT Parks in Telangana to improve the economic status and provide employment to youths, KCR told Premji.