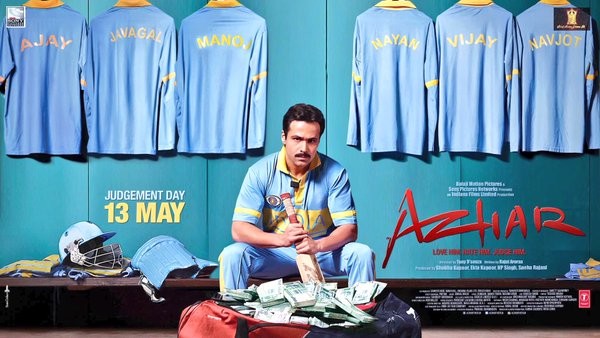 Did "Azhar" hit it out of the park? I'd say, for the most part, it struggled at the crease lacking the fluidity that characterised most of Mohammed Azharuddin's wrist-y flicks.
Tony D'Souza's "Azhar" does a decent job of introducing audiences to many aspects (both personal and professional) of one of India's greatest captains, albeit cautiously bubble-wrapped with an array of disclaimers.
Emraan Hashmi earnestly portrays the journey of an emerging cricketer, who adeptly resolves challenges that this highly-scrutinised game presents, evolving into one of the all-time greats. Notwithstanding his success on the field, which eventually gets marred by the match-fixing scandal, his personal life is rife with constant struggles, an aspect, which has been aptly captured in the film.
However, a highly eventful and promising premise, which should have made for a gripping theatrical experience, is let down by medium-paced narrative, unimpressive dialogues and screenplay coupled with uninspiring performances by the rest of the cast.
Kunal Roy Kapoor struggles as much with his convincing portrayal of Azhar's defense lawyer as he does with his wig and a terrible accent. You'd probably have to scout for Nargis Fakhri with a microscope to realise her impact, if at all, in the scheme of things. Prachi Desai's turn as Naureen is quiet, strong and silent. However, it fails to salvage the movie altogether, which is found wanting of delectable Hyderabadi flavour.
DJ Chetas' rendition of "Oye Oye" might get your hopes high for a better second half but it rarely strays from the drab execution of the first-half. Unlike a typical Emraan flick, which has a memorable mix of soulful and peppy numbers, this album fails to stick with you for long.
Mohammad Azharuddin was a celebrated batsman, an outstanding fielder, an inspiring captain and a hero for millions who served and furthered international cricket for a long time. Emraan's honest performance serves as a fitting analogue to this. And yet, akin to match-fixing allegations that have messed with Azharuddin's phenomenal career and legacy, big chinks in the movie's execution, lets both the film and Emraan down.
Watch it to relive the cricketing moments that got you rooting for Azharuddin.
International Business Times, India rating: 2.5