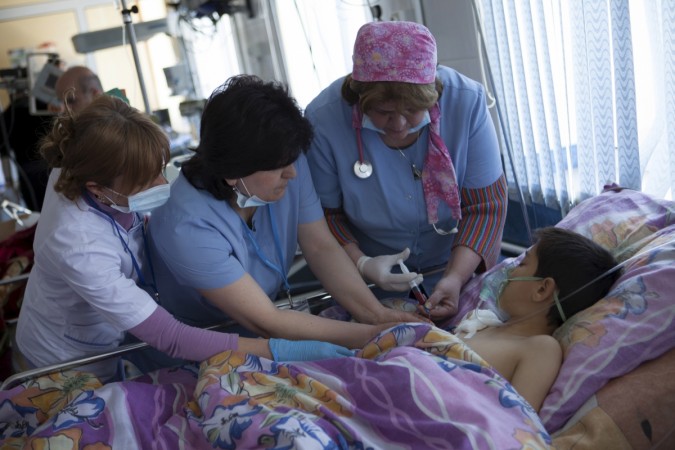 Azerbaijan reportedly announced Sunday a "unilateral ceasefire" with Armenia in the disputed Nagorno-Karabakh region after at least 30 soldiers were killed in fierce clashes Saturday. It has warned of consequences in case of "provocations" from the Armenian side.
Azerbaijan called truce a day after Russian President Vladimir Putin and the West appealed to both countries to put an end the conflict. At least 18 Armenian and 12 Azerbaijani soldiers died Saturday in deadly clashes along the Karabakh front line, Agence France-Press reported.
A child was also killed in the fighting, while two other children were sustained injuries, according to BBC.
"Azerbaijan, showing goodwill, has decided to unilaterally cease hostilities," Azerbaijan's defence ministry said in a statement. It would "liberate all (Armenian-) occupied territories" if Armenian forces "do not stop provocations," it added.
Even as Azerbaijan claimed the fighting was over, Armenian-backed rebel defence ministry in Karabakh said the clash was underway along the front line. "Fierce fighting is under way on southestern and northeastern sectors of the Karabakh front line," ministry spokesperson David Babayan said.
Armenia said Azerbaijan launched a "massive attack along the Karabakh front line using tanks, artillery, and helicopters" Friday night, whereas Azerbaijan claimed its attack was in response to Armenian-backed firing from "large-calibre artillery and grenade-launchers," AFP reported.
Nagorno-Karabakh region is a part of Azerbaijan, but its control lies in the hands of ethnic Yerevan-backed Armenians with the support of Armenia after a war that started in the late 1980s and ended in 1994 with a ceasefire. As many as 30,000 people were killed in the fighting.
The two sides have engaged in fights on numerous occasions, but the Saturday's confrontation was reported to be the worst so far. Armenia and Azerbaijan have not signed a peace deal as yet as the peace talk between Armenian and Azeri leaders is on hold since 2009, BBC reported.