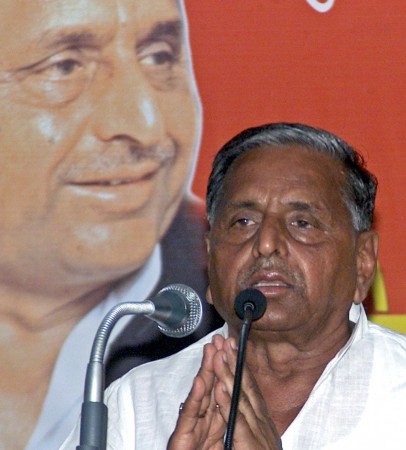 Vishwa Hindi Parishad (VHP) has called for a massive nation-wide protests on Monday, a day after the Uttar Pradesh government banned the saffron outfit from organising its planned 84 kos parikrama yatra in the state over fear of a communal fare up.
Top VHP leaders Praveen Togadia and Ashok Singhal were detained on Sunday as they threatened to launch the yatra in UP even after the Samjwadi Party government put a ban on it citing a possible law and order problem. Togadia has been sent to 14-days judicial custody.
The UP police arrested more than 1700 VHP supporters who tried to commence the proposed yatra. Temporary jails were set up by the UP government in the districts of Faizabad (10), Barabanki (12), Bahraich (16), Basti (2), Gonda (3) and Ambedkarnagar (5) to house the arrested, as reported by The Indian Express. Ayodhya witnessed a curfew-like situation on Sunday as shops were shut and heavy security was put in place to meet any eventualities
Against the massive crackdown the VHP decided to stage a protest across the country on Monday.
The VHP supporters have called for a shutdown following the massive crackdown on the proposed yatra. VHP workers in Delhi held protests at Jantar Mantar, forcing the police to use water cannons on the protestors after the demonstrators tried to break barricades and resorted to stone pelting.
As per CNN-IBN report, at least 200 activists were on the way to Rashtrapati Bhawan. Activists shouted slogans and marched on the roads of Bangalore as well. Bajrang Dal activists protested against the UP government decision in Jammu and Kashmir.
Meanwhile, Samajwadi Party (SP) chief Mulayam Singh Yadav defended the ban in the Lok Sabha and criticised the Bharatiya Janata Party (BJP) for promoting a communal flare in the state. "VHP has violated a court order and the common man has not supported them. BJP indulged in hooliganism in the state and targeted SP workers," he said.
He also reminded the BJP that the Supreme Court had put a stay order on construction of a Ram temple at the disputed Ram Janmabhoomi site in Ayodhya.
"SC directed that till the time there is no judgement nothing should happen. We did not beat up anyone, we only maintained law and order. BJP doesn't follow the Supreme Court or the Constitution. BJP is playing a communal card yet again," Yadav added.