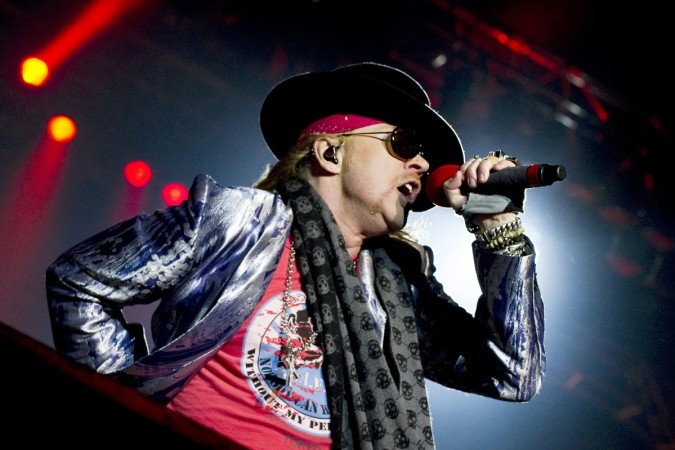 Yes, the rumours are true. Gun N' Roses frontman Axl Rose will be taking up the vocal duties for Australian hark rock band AC/DC's "Rock or Bust" world tour. Rose will join the band for the European and postponed North American leg of the tour, which starts at Lisbon, Portugal, on May 7, 2016. (Get the full tour schedule here)
AC/DC had to postpone their tour earlier this year when vocalist Brian Johnson was advised by doctors to stop touring due to the fact that it could lead to total hearing loss. Johnson had been the band's frontman for 26 years.
The band recently confirmed both developments in a statement on their website. They said: "As much as we want this tour to end as it started, we understand, respect and support Brian's decision to stop touring and save his hearing. We are dedicated to fulfilling the remainder of our touring commitments to everyone that has supported us over the years, and are fortunate that Axl Rose has kindly offered his support to help us fulfil this commitment. AC/DC will resume their Rock Or Bust World Tour with Axl Rose joining on vocals. [sic]"
The band also told fans to keep an eye out for their North American tour dates as they will be rescheduled and announced soon.
The year 2016 is turning out to be a major one for Axl Rose. The singer reunited with Slash and Duff McKagan and the old Guns N'Roses line-up was back in action at Coachella 2016. Guns N' Roses also have their "Not In This Lifetime" tour coming up in June. Rose, a founding member of Guns N' Roses, will juggle between touring with the two bands for the most of 2016.
Also read: 'Coachella 2016' live stream: where to watch the festival online
Although the fact is not confirmed yet, Rose will most likely join AC/DC as their vocalist on a permanent basis after the tour ends, as Johnson' medical condition will not let him return to performing anytime soon.
Watch Guns N' Roses cover AC/DC's "Whole Lotta Rosie" here.