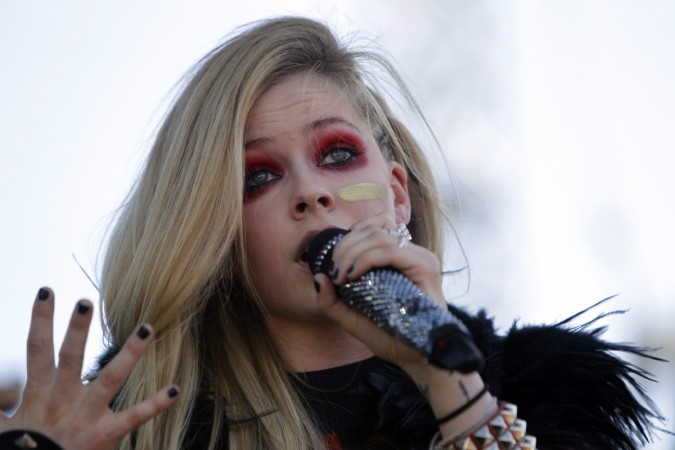 Avril Lavigne has once again proved that there is no one like her in the musical industry. By appearing completely stripped on her new album cover, Head Above Water, Avril Lavigne has turned all the heads at her.
Avril Lavigne, who ruled the 2000s by her songs like "Complicated" and "I'm with You," is back to break all the musical charts by her new album, Head Above Water. The 34-year-old singer recently debuted the steamy cover on Friday via her Instagram account and now her fans are going gaga over it.
In the uploaded racy snap, Avril Lavigne appears to be completely stripped, as she reclines behind an acoustic guitar which she perfectly holds in front of her. Her blonde hair is parted in the middle and goes down all the way to the floor.
Check out the risqué cover below:
The Canadian singer wrote in the caption that she "still can't believe that my album is almost here!! This album means a lot to me and I'm so excited that you guys get to hear it soon. You can pre-order it at my link in bio. Also, thank you to my fans for being so loving and supportive of me throughout this journey. I love you all so much."
Apparently, this is not the first time when Avril Lavigne stripped entirely for the cover of her single. Back in 2013, in a daring move for her single, "Here's To Never Growing Up," Avril decided to shed all of her clothes. In a tweeted photo, she was seen holding a giant teddy bear, who seems to be the only thing covering her otherwise naked body.
Meanwhile, Avril Lavigne's last album was released in 2013. After getting diagnosed with Lyme disease in 2015, she took a break from music. In a press release, she talked about her new album and how she hopes that it will inspire others, reports NME.
"I feel like I've really opened up on this record more than I ever have before," she said. "Each song tells a story that will hopefully inspire others to believe in themselves and stand up for what they know is right and what they truly deserve!"
Avril Lavigne's latest album Head Above Water will release worldwide on February 15, 2019.