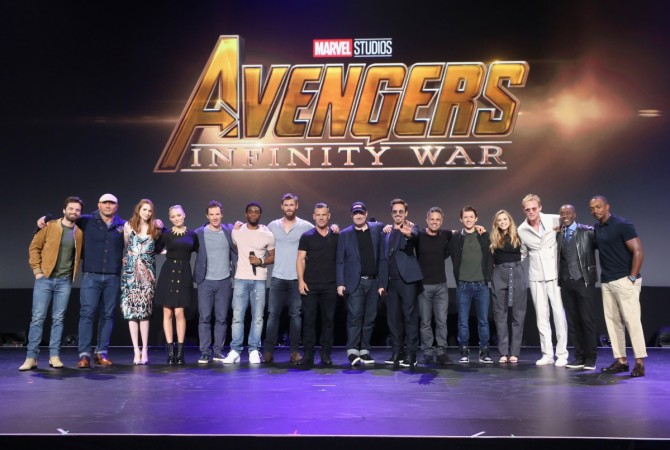 The past weekend was officially dedicated to Marvel's Avengers: Infinity War. The 2018 summer release revealed its first look at Disney's D23 and opened a floodgate of spoilers. The Avengers movie, which will see a jaw-dropping number of superheroes coming together to fight Thanos, broke their silence on what to expect from the movie.
The biggest reveal that the makers announced is that the Avengers will not be put against Thanos alone but a slew of villains are lined up for the superheroes. Thanos' army constitute of his children namely Glaive, Proxima Midnight, Ebony Maw, and Black Dwarf, who have been renamed as Cull Obsidian.
Also Read: Avengers: Infinity War trailer reveals MAJOR Thor: Ragnarok spoiler; Thanos is not the ONLY villain
The trailer revealed at the gathering also showed how Thor and Guardians of the Galaxy meet. Newer spoilers from the movie reveal much more details. Here's a collaborative list of a few important Avenger: Infinity War spoilers that the cast and director shared.
Mark Ruffalo accidentally revealed that everybody dies. Yes, talking to Good Morning America, The Incredible Hulk actor let out the biggest spoiler. "Everybody dies," he told just before regretting opening his mouth. An enthusiastic Ruffalo words were followed by, "Not everybody - no. Is that - can we rewind that part? Am I in trouble? Is Barry going to be mad at me?" Oops!
The Incredible Hulk will be in focus. The actor also revealed in an interview at the event that there is a big change waiting for him in Avengers: Infinity War. "There's a huge change for Banner and for Hulk. It isn't resolved in the first Infinity War, it sort of culminates into the second Infinity War. Thor 3 is the beginning of a lot of changes for Banner and for Hulk," he shared.
A part of the movie will be carried forward from Captain America: Civil War with Iron Man Tony Stark and Captain America Steve Rogers still at war. Another part will take off from Thor: Ragnarok's ending, as hinted in the trailer. However, the drama from both the movies will not drive the film. Confirming the same, Vision actor Paul Bettany said Avengers have a 'bigger fish to fry' than drama from Civil War.
Vision might not need the Mind Stone to live.
After Iron Man, Spider-Man Tom Holland will be seen collaborating with Doctor Strange Benedict Cumberbatch. Confirming the same, co-director Joe Russo revealed, "There's a really great chemistry there. I mean, they both have a proximity to each other, if that's a hint that I can give? But anybody who's a Marvel fan will know that they both reside within the same city, and I think that Tom and Benedict have a great chemistry, and we wanted to exploit that."
Thanos actor Josh Brolin levied on the villain's role revealing that the film will see an emotional side of the villain in Infinity War. "He's a smart character. It's way more emotional and way more interactive than I thought. So it's actually a lot of fun, and a lot deeper, a lot more emotional than I thought," the actor revealed.
A bionic James Rhodes/War Machine will be seen in the Avengers sequel. Confirming the same, Don Cheadle spilled some beans, "I don't know that I'd like to use that word, I like fake... It's an augmentation. It's somewhat bionic."
Avengers: Infity War's trailer is expected to release soon. The movie is slated to release on May 4, 2018.