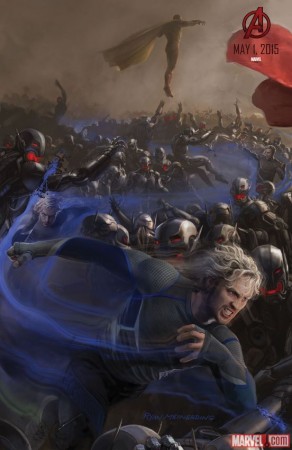 New posters have given away the first look of the upcoming movie, "Avengers: Age of Ultron." The concept art has revealed three new characters- Quick Silver, The Vision and Hawkeye. These revelations were made during the ongoing San Diego Comic-Con 2014.
The posters follow the releases of Iron Man and Scarlet Witch on Day 1; Captain America and Black Widow came next, followed by that of Quicksilver (Aaron Taylor-Johnson) and Hawkeye (Jeremy Renner), Hulk and Thor are to follow this.
These two posters are part of a huge panel that will be eventually revealed. So what do we understand from the posters? As pointed by The Hollywood Reporter, the inspiration seems to be from the 1990's book "Ultron Unlimited," where the Avengers battle against Ultron robots.
On all these posters, we see that the Avengers are surrounded by these robots in greater numbers. We can also see Iron Man using his repulsor rays and Scarlet Witch using magic to melt away the robots. Also, we see how fast Quicksilver is, since he was able to knock off many of these robots with no one yet able to lay hand upon him. On the poster of Black Widow, we can see part of Hulk's hand too. We can only wonder if the Hulk is in danger or if he is having the biggest impact of all the Avengers.
But the most surprising thing about the poster reveal is that of The Vision, who is hidden in the background of the poster of Quick Silver. The part will be played by Paul Bettany in the movie. Observing from the poster, a closer look reveals that he is wearing a yellow cape.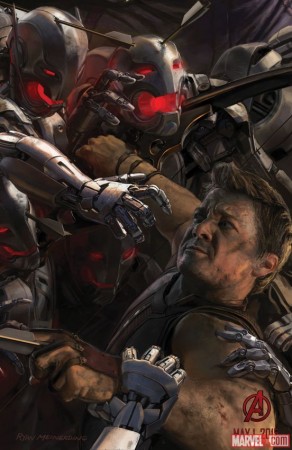 What we can expect is that the movie will pit the Ultrons against the Avengers. Will the superheroes be able to stop them, we will have to wait for its release on 1 May 2015.
"Avengers: Age of Ultron" will be directed by Joss Whedon, who was the obvious choice after the first Avengers was highly successful. The movie will feature a star- studded star cast with many of them reprising their role from the last movie. Robert Downey, Jr. as Tony Stark and Iron Man, Chris Hemsworth as Thor, Mark Ruffalo as Dr Bruce Banner and The Hulk, Chris Evans as Steve Rogers and Captain America, Scarlett Johansson as Natasha Romanoff and Black Widow, Jeremy Renner as Clint Barton and Hawkeye, Samuel L. Jackson as Nick Fury, Aaron Taylor-Johnson as Pietro Maximoff and Quicksilver, Elizabeth Olsen as Wanda Maximoff and Scarlet Witch and James Spader as Ultron.
Ultron was created by Tony Stark with artificial intelligence to assess threats, but it however comes to a conclusion that humans are its enemy and they are the ones who need to be eliminated.