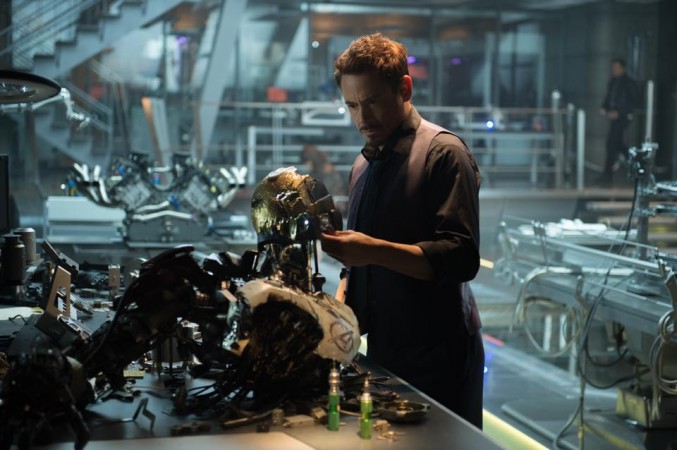 Warning: Potential Avengers: Infinity War spoilers below
The Avengers are headed to an epic fourth sequel while the world still waits to watch the first official trailer of the third sequel, Avengers: Infinity War. The Marvel cast has reportedly begun filming for Avengers 4 and the superheroes will continue to fight against the Mad Titan, Thanos.
While even the title has not been revealed, Thanos actor Josh Brolin shared a photo announcing the commencement of filming. Now, new photos from the sets tease a number of spoilers from the movie. The biggest spoiler is connected to Iron Man.
Also Read: Is DCEU trying to replicate Spider-Man: Homecoming with The Flash's Flashpoint?
A new photo shared by Iron Man actor Robert Downey Jr sees his lady love played by Gwyneth Paltrow and his assistant, Happy, played by Jon Favreau, posing for a casual photo between shots. While it is nice to see the Iron Man team together, it is Downey's shirt that has grabbed all the attention.
A jacket is seen tied around the actor's neck and it is not merely a fashion choice. It appears that the scarf is covering a new type of arc reactor that is placed on Tony's chest. Fans noticed that the reactor is rather different from the ones seen in the previous instalments.
The new reactor looks bigger, bulkier and the shape differs. The placement hints that the undershirt sort of supports the new addition. Fans might want an explanation regarding the change in the features of the arc reactor in Avengers: Infinity War, releasing next year.
Another Avengers 4 set photo has teased the return of Scarlett Johansson's Black Widow. In a new set of set photos obtained by E! Online, Johansson is seen walking around the set minus her character's costume.
However, she was spotted with a new tattoo on her back. The new body art addition teases the possibility of some sort of Avengers 4 connection. The possibility of her return has caused a frenzy online as fans are excited to see the female superhero as part of the fourth Avengers.
Earlier this month, a few photos surfaced online that hinted the new Avengers movie to be set in Japan. Though the film team might not head to the country, Marvel has reportedly recreated the Japanese streets in Atlanta. But many criticised that it is the Hollywood version of Japan and not how actually cities in the country look.
Avengers 4 is set to release on May 3, 2019, a year after the release of Avengers: Infinity War released. The Avengers 3 movie releases on May 4, 2018.