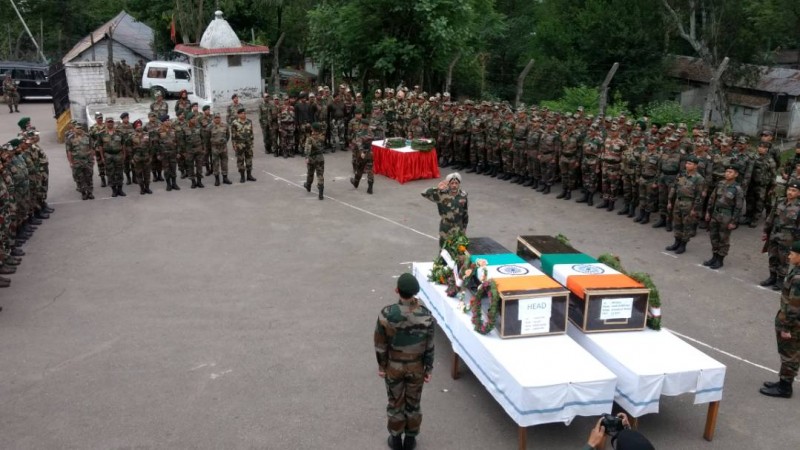 The kin of Indian jawans martyred over the past few days in terrorist and Pakistani attacks in Jammu and Kashmir are demanding solid action from the Central government as well the Indian army for the deaths of their near and dear ones. And the recent killing of seven Pakistani soldiers by the Indian Army seems to be only fuelling the demand for more such action.
While demand for appropriate action against perpetrators has been growing for quite some time, it reached a crescendo when Pakistan mutilated the bodies of two Indian jawans who were killed in a ceasefire violation in the Krishna Ghati (KG) sector of Jammu and Kashmir.
The Army was quick to issue a verbal reply to that, saying: "In an un-soldierly act by the Pak Army, the bodies of two of our soldiers were mutilated. Such despicable act of Pakistan Army will be appropriately responded. [sic]" The physical response came in the form of the killing of seven Pakistani soldiers and destruction of two of their bunkers along the Line of Control (LoC) exactly opposite the KG sector.
However, there is now demand for more action. Saroj, the daughter of BSF Head Constable Prem Sagar, who was one of those whose body was mutilated, said she wants "50 heads" for the supreme sacrifice her father had made for the sake of the country.
Meanwhile, Naib Subedar Paramjit Singh's brother told reporters on Tuesday morning: "It has been more than 24 hours since my brother was killed by Pakistan. Where are the government and the politicians? We say our army is bigger than Pakistan's population. So why can't we attack them? What is the prime minister doing?"
He also said of his brother: "He recently got his house constructed. He had plans to shift into it soon. Instead of him, now his body will enter the house."
Meanwhile, an old comment came back to haunt External Affairs Minister Sushma Swaraj. She had said in 2013 that India should get 10 heads of Pakistani soldiers if they did not return the severed head of constable Hemraj, who was similarly mutilated back then.
His mother has now said: "They beheaded my son and now we are witnessing numerous incidences every day. The government had promised that they would behead 10 people if they beheaded one of ours. Till now nothing has been done. The government should take stern action against Pakistan now."