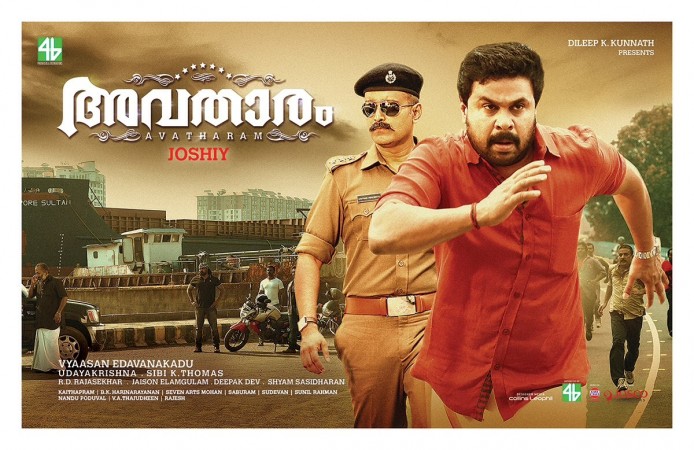 If you are a fan of Dileep-Joshiy combination, "Avatharam" will not disappoint you. Even though the film does not have long dialogues and high end action sequences, it is a complete mass entertainer.
"Avatharam" begins when Madhavan Mahadevan (Dileep) shifts to Kochi from a small village in Idukki. He is in the city to take care of his brother's wife and their young daughter after his elder brother's (Ganesh) sudden death, who was a customs officer. In the process of getting his brother's life insurance, he meets Manimeghala (played by Lakhmi Menon), who is an employee at the insurance office and falls in love with her.
Meanwhile, Madhavan learns that his brother's death was not an accidental death, but has lots of conspiracy surrounding it. The more he makes an effort to find out the truth behind his brother's death, the more he gets involved in a web of troubles. What follows is a series of emotional moments with lots of twist and turns as Madhavan takes revenge against those who killed his brother.
"Avatharam" is a typical Joshiy film. Its story can be summarised as an 'old wine packed in a new bottle' with all the elements of a mass entertainer. Dileep is in his self with his usual comic timing and dialogue delivery. If you liked the director-actor duo's earlier combinations like "Runway", "Lion" and "Twenty Twenty," you would also love their new flick. In short, "Avatharam" is a mixed reflection of all these films.
The first half of the film is a bit long and is filled with comedy, romance, suspense and songs. Madhavan and Manimeghala falls in love in quite a fast pace. Manimeghala, with lots of troubles in her family, finds Madhavan to be very innocent and understanding.
Second half of the film is fast paced and is all about Madhavan's moves to track his enemies with the help of technology.
Kalabhavan Shajon's presence in the film is for a short while, but he manages to create laughter in the theatre. Lakshmi has managed to do her character well. Shammi Thilakan also stands out in the film with the role of a corrupt police officer. Sijoy Varghese charms the audience with a convincing performance as a shrewd police officer. Joy Mathew proves again as a great performer in the villain role as Karimban Jose. Mithun Ramesh, Babu Namboothiri, Devan and Anju Aravind have also played their part well to make "Avatharam" a worthy film to watch.
Deepak Dev has done an average job with the background score, but the songs are well composed by him. The film does not bore the audience with top dialogues or action sequences, but manages to engage them.
"Avatharam" has its own drawbacks. The film has too many characters that are insignificant to the story line and also has some unwanted scenes, especially in the first half. The other star cast like Edavela Babu, Thezni Khan, Sathaar, Prem Prakash, Siddhique, Vinaya Prasad, Lakshmi Priya, Ambika Mohan and Valsala Menon have no much contribution to the storyline.
Like most of the mass films, you have to keep your logic away to watch it as everything in the film is placed perfectly for Madhavan to reach his goal even though he is under strict surveillance of the police. This can be excused as Joshiy or Dileep never promised us an intellectual film.
To conclude, "Avatharam" is not a film for intellectuals who are expecting a well crafted suspense thriller, but is a mass entertainer for Dileep fans with some suspense, comedy and romance.
My Verdict: 3 / 5