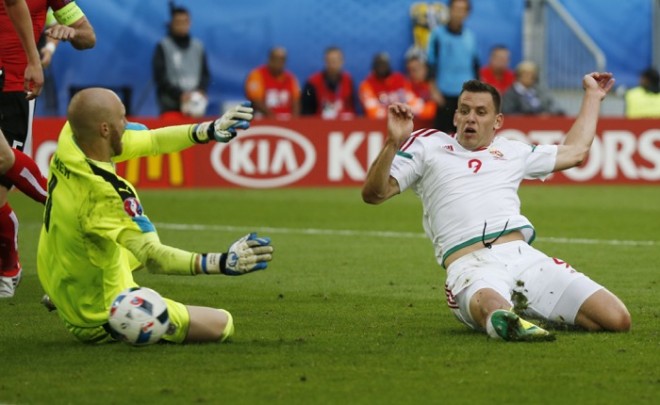 Euro 2016 Group F underdogs Hungary stunned Austria in their first match of the tournament at the Stade de Bordeaux on Tuesday. Adam Szalai and Zoltan Stieber scored for Hungary against Austria.
Either sides could not break the deadlock in the first half. Austria got a number of chances to go ahead in the game but they wasted all of them.
Austria had most of the ball possession throughout the game but they were outclassed by some brilliant passing from Hungarian players.
Martin Harnik of Austria got the best chance of the game. Marko Arnautovic played a through ball to Harnik but that golden opportunity went begging as he hit the ball wide of the near post.
David Alaba too came close to scoring but could not find the back of the net.
Hungary showed more conviction in the second half. Their passing were much better and Austria defenders led by Christian Fuchs were facing nervy moments at regular intervals.
Adam Szalai opened the deadlock in the 63rd minute of the game with a brilliant finish. That added a lot of pressure on the Austrian players as they had to comeback from behind in this crucial encounter of Group F of Euro 2016.
Austria kept on trying right till the end but they failed as the Hungarian defense stood strong.
Hungary found the back of the net yet again in the game that turned out to be a historic one for them. Zoltan Stieber came in as a substitute in the second half of the game and that turned out to be a brilliant move y the Hungary coach.
Stieber found the through ball and chipped it over the Austrian goalkeeper. It was indeed a sublime finish from the Hungarian forward.
Hungary took their tally to 67 wins against their neighbour Austria in 138 meetings. Also, Hungary managed to break Austria's nine-match unbeaten streak in international streak.
Austria will now have to work really hard to make their into the knockout rounds of Euro 2016 as they have been shocked by their neighbour after 82 years in a major tournament.
Austria have never crossed the group stages of any major tournaments and they need nothing but a win in their next game of Euro 2016 to keep themselves alive.
This was an amazing achievement for the rank outsider of Group F - Hungary, as they have two points in their bag. They have completely outplayed Austria in all the departments - quality of passing, defence and the most important - finishing.
Watch the highlights of the match here: