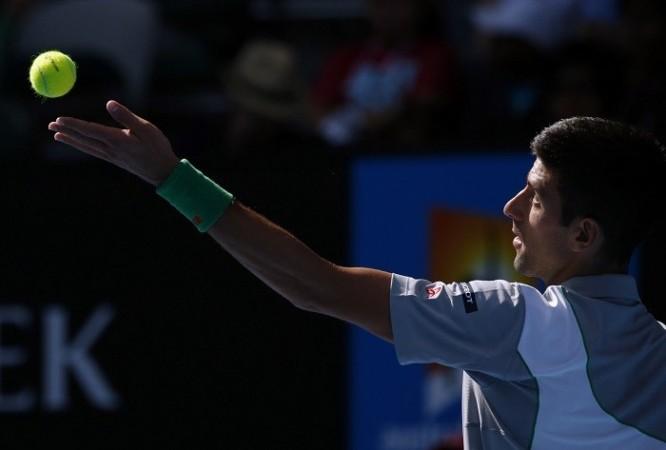 Novak Djokovic has looked quite good at the Australian Open so far this year, and Stanislas Wawrinka will know he will have to be at his absolute best, and then some, to stand a chance of creating a big upset in the quarterfinals on Tuesday.
Where to Watch Live
The quarterfinals are scheduled for an 11 am AET (5.30 am IST) start with live coverage on Star Sports 4 and Star Sports HD2 in India. The matches can also be live streamed online in India HERE. Catch the action via live streaming in the UK HERE or HERE. Viewers in the US can live stream the action HERE, while Africa viewers can do the same HERE.
Wawrinka will look towards the women's draw for some inspiration after seeing Serena Williams and Maria Sharapova get knocked out of the competition, and with the best season of his career behind him in 2013, the Swiss will target a surprise result.
"I don't know what to expect," Wawrinka said after this third round win over Tommy Robredo on Sunday. "He's an amazing player, especially in Grand Slams, especially here. He's playing so good. I watch him a little bit today. He's really, really tough to beat. Had five sets against him last year here. Five sets in the US Open. But I didn't win. I couldn't find the solution to beat him.
"So it's going to be really difficult. But I'm trying every time to improve. I'm practicing to play that kind of match, a quarterfinal here against one of the best player in the world. I will have a chance to try to beat him. That's the most important [aspect]."
Djokovic dismantled Fabio Fognini in the third round on Sunday and another place in the final looks almost like a foregone conclusion for the enigmatic Serbian. "I felt from the start of this tournament that I've been elevating my game as the tournament is going on," the world number two said. "Every match is better. The general feeling on the court, all the shots, using the court position really well, being aggressive, playing my style of the game.
"Mentally I am there, tough and focused. I feel great about myself in this moment. There is this confidence that I, you know, carry on obviously from many wins that I had in last two months of the 2013 season, and I started off this season in a good style. Trying to keep it up."
The other men's singles quarterfinal will be between David Ferrer, the number three seed, and seventh seed Tomas Berdych, with the match expected to be an extremely tight one.
"I have a good memories from last season [playing against Ferrer], which is not that far ago," Berdych said. "We played twice -- in Bercy and in London. I beat him in London. That match I played really well. The week before in Paris Bercy, I was very close. I lost to him in three sets.
"So, I'm going to have a plan and I hope it's going to be the right one."
The two women's quarterfinals on Tuesday are Li Na vs Flavia Pennetta and Serena-slayer Ana Ivanovic vs Canadian youngster Eugenie Bouchard.
"I'm excited," 19-year-old Bouchard said of making it all the way to the quarters. "We're at a Grand Slam. I'm just so happy to be playing, looking forward to playing another match. Just really happy to be here and excited to play my next match, hopefully play well.
"She beat Serena so she's playing really well. I saw a little bit of the match, so she was definitely playing really well. I'm going to look forward to a really tough battle. We're in the quarters now, so she deserves to be there. No one's going to give it to me, so it's going to be a good match."
Schedule of play: Rod Laver Arena (11 am local time, 5.30 am IST start) Quarterfinals: 4-Li Na (CHN) vs 28-Flavia Pennetta; 14-Ana Ivanovic (SRB) vs 30-Eugenie Bouchard (CAN).
Not Before 2.30 pm local time (9 am IST): 7-Tomas Berdych (CZE) vs 3-David Ferrer (ESP).
Not before 7:00 pm local time (1.30 pm IST): 8-Stanislas Wawrinka (SUI) vs 2-Novak Djokovic (SRB); Alex Bolt (AUS) / Andrew Whittington (AUS) vs 8-Daniel Nestor (CAN)/ Nenad Zimonjic (SRB).