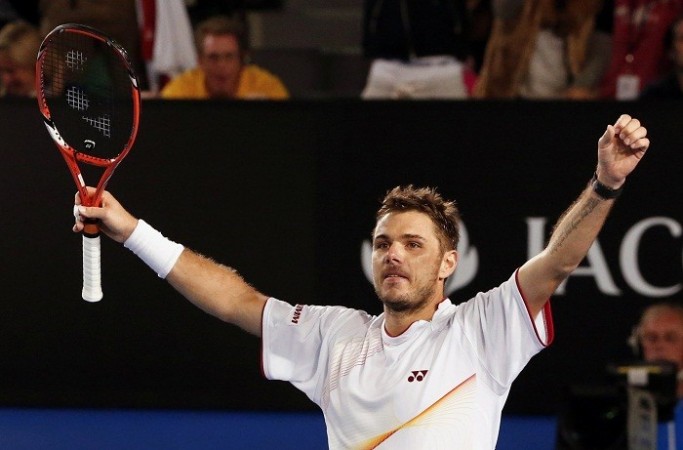 One thing that Stanislas Wawrinka will need to be wary of, when he takes on Tomas Berdych in the semifinals of the Australian Open on Thursday, is succumbing to a hangover from that epic five-set victory over four-time champion Novak Djokovic in the quarterfinals.
Where to Watch Live
The semifinal match is scheduled for a 7.30 pm AEDT (2 pm IST) start with live coverage on Star Sports 4 and Star Sports HD2 in India. The match can also be watched via free live streaming HERE. Catch the action live online in the US HERE, while Africa viewers can do the same HERE. Viewers in the UK can live stream the match HERE or HERE.
That quarterfinal victory was a supreme effort from the Swiss, but if he wants to make full use of such a big scalp, then he will need to carry it forward and take that momentum into the Berdych match as well, and with it seal a place in the final in Melbourne - in what would be his first Grand Slam final.
"I'm enjoying for sure because I'm playing great tennis," Wawrinka said on Tuesday after that stunning win. "Yeah, it's a different level if I compare to last year here. I had a lot of great matches, a lot of good results.
"Now I'm No. 8 in the world. I'm making my second [Grand Slam] semifinal. Beating Novak here for me, for sure it's great. Still amazing.
"I'm still far from winning the tournament. Two matches, the more difficult matches. But I'm not thinking at all about that, to be honest. I'm thinking match after match. Tonight I'm going to enjoy with the victory of today because I think it's important. That's why I play well last year, because I'm enjoying my life, I'm enjoying the tennis.
"When I win, it's important, yeah, to be just happy, because I know it's not going to be every Grand Slam that I'm going to be in the semifinals. I just want to enjoy."
Berdych has been a bit of a silent assassin this year at the Australian Open, serenely making his way all the way to the semifinals, with the latest victim being No. 3 seed David Ferrer in the quarters.
"I'm going to give 100 percent into the [semifinal] match and really not looking into the future, you know," Berdych said after the Czech No. 7 seed beat Ferrer on Tuesday.
"So really I will make everything what I have left. If it's going to be the lucky one, the winning one, I'm going to try to prepare myself somehow and be ready for the final.
"I mean, really, I'm coming from two extremely tough matches."