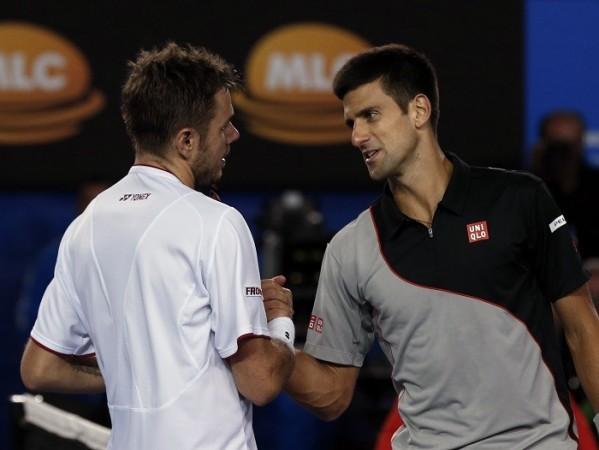 The unbeatable man in Melbourne can be stopped after all!
Stanislas Wawrinka slayed the biggest Australian Open giant Novak Djokovic in the quarterfinals of the men's singles in a five-set humdinger, leaving the door wide open for either the Swiss or Tomas Berdych to enter a Grand Slam final.
Wawrinka, after losing two straight five-setters in majors to the four-time Australian Open champion Djokovic, just shut the door on the enigmatic Serbian at the third time of asking, showing great resolve, fight and quality to pull out a 2-6, 6-4, 6-2, 3-6, 9-7 win in four hours.
"After losing two straight five-setters against Djokovic, who is a great champion, I always had doubts. But I'm just really, really, really, really, really happy to win," an understandably ecstatic Wawrinka said during a courtside interview.
"I was really focused point after point. I had to stay aggressive, not to give up. I was tired, I was cramping a bit, I was nervous too. But now I'm going to have an ice bath for a very long time."
Serving first in the final set definitely worked to Wawrinka's advantage, with the Swiss doing really well to hold his serve in the 15th game. The pressure kept mounting on Djokovic as time wore on, and the Serbian, usually so unbelievably good when under the pump, finally cracked, firing two uncharacteristic unforced errors to hand Wawrinka a truly memorable, and it must be said, deserved victory.
The Swiss number eight seed now takes on Berdych in the semifinals, after the Czech got the better of No. 3 seed David Ferrer 6-1, 6-4, 2-6, 6-3.
"It's a really great feeling," Berdych said after his four-set win over Ferrer. "You know, there were some special moments which went well together in this match, making it for the first time here in the Aussie Open to the semis, winning my first match on Rod Laver after all those years.
"That's been a very special match to me. I'm extremely happy to go through."
Berdych admitted going all the way to win the Australian Open would indeed be the best moment of his career. "It would be really the top of my career so far, definitely," he said. "I mean, that's not question about it.
"But we are still talking about two matches left. These two matches are like I would say maybe 10 or 15 others. If you look at the opponents that you might face in the semis and possibly in the final, really that's something why you play tennis and why it's that special when you get to the last stages of the tournament.
"So really I'm going to try to do the same -- go one by one and let's see what's going to happen."
The other two quarterfinals will be played on Wednesday, with world number one Rafael Nadal taking on Grigor Dimitrov, while another epic can be expected when Andy Murray faces Roger Federer.